Keep on clicking links, or make unhappy discoveries later
Do you ever get tired of clicking links in your online and emailed publications to make sure they go to the right place? I do.
It's frustrating to click, click, click because 999 times out of 1,000 the link goes to the right place, and I see what I expect to see there. But what about the 1,000th time?
My shock from clicking a link
As I worked with my virtual assistant on my marketing emails for my upcoming investment commentary webinar, I thought, "I don't need to continue clicking links to my registration page on EventBrite. We've used these emails and links forever. What could go wrong?"
After all, my assistants and I have used EventBrite since 2012. Over the years, each assistant has quickly gotten the hang of updating the dates and fees on the registration page, while repeating the same formatting.
I clicked anyhow, expecting to see the usual formatting with my logo at the top. Instead, I saw something similar (I didn't think to save a screen shot) to the following: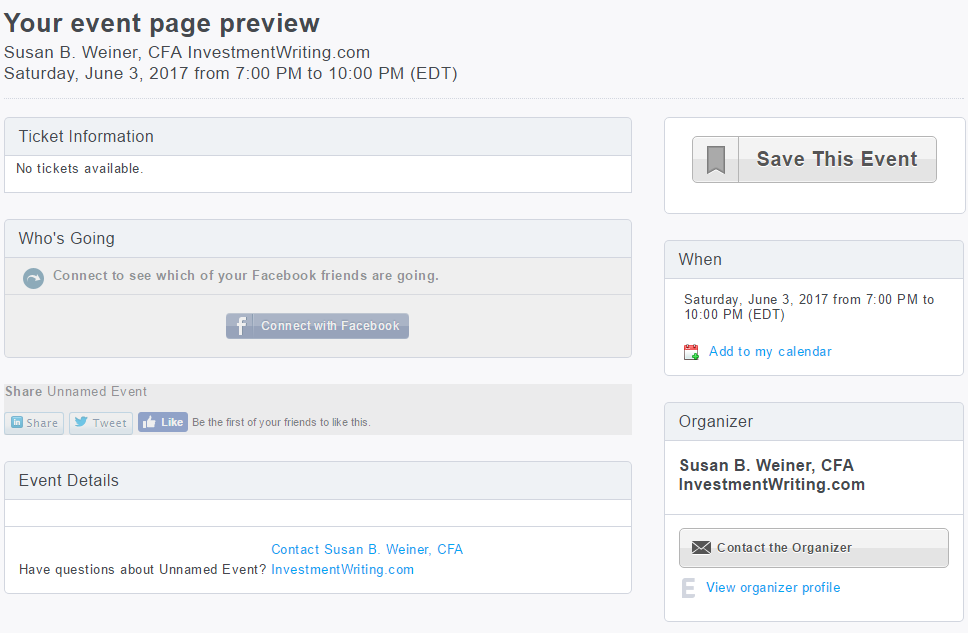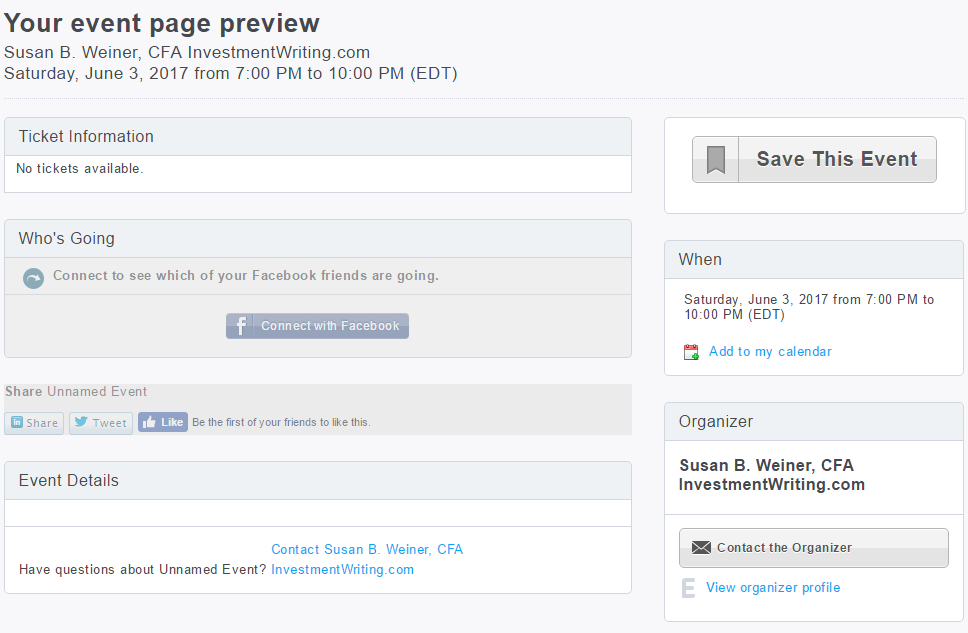 My logo and some of the usual text had been stripped out of my event registration page, apparently due to an "upgrade" in EventBrite's software.
I tweeted to EventBrite to learn about the changes, and emailed my VA for help. Luckily, both responded quickly. Now I have a new registration page with my logo and some color, as you'll see below.
What a difference clicking links makes! As a result of clicking the links, I found a problem that would have embarrassed me if I'd waited for my readers to discover it.
Clicking links lesson for you
What's the lesson for you? Keep on clicking links to check that they meet your expectations.
After this experience, I think I'll check more links than I used to. I must resist the urge to assume that everything is OK.
To learn more about my investment commentary webinar
Want to learn more about writing investment commentary? You'll find the details of my webinar on my website and you can register for the webinar.
Not sure if you'll be available at the time of the webinar? Don't worry, you can watch a recording.
https://www.investmentwriting.com/newsite/wp-content/uploads/2017/05/mouse-74533_1920.jpg
1276
1920
Susan Weiner, CFA
https://www.investmentwriting.com/newsite/wp-content/uploads/2016/12/investmentwriting_logo_2016.png
Susan Weiner, CFA
2017-05-23 05:09:43
2017-04-27 11:11:26
Keep on clicking links, or make unhappy discoveries later