Style guidelines for financial services firms
Style guidelines for financial services firms can help you to make your written communications more consistent and thus easier to read.
Why create style guidelines for your financial services firm?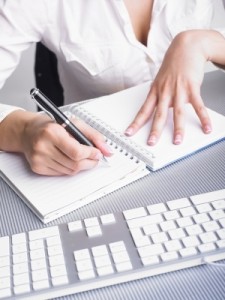 It can be distracting if writing styles are inconsistent within and across documents published by your firm. For example, is it "counterparty" in the first paragraph and "counter party" in paragraphs two and three? Do headings randomly mix sentence case and title case? Is your company name abbreviated in different ways?
It's a good idea to pick a major style guide, such as the AP Stylebook, to use as your reference for common questions. However, style guides often don't cover challenges specific to financial services firms. They certainly don't tackle company-specific branding issues.
Creating style guidelines tailored to your company can help your writers and editors fill in the blanks left by the major style guides.
How I create style guidelines for my clients
For my editing clients, I create style guidelines for my own reference. They help me to be consistent. Also, I share the guidelines with my proofreader, when I use one.
As issues arise, I record the preferred style in an Excel spreadsheet. In the first column, I record the word, phrase, or other issue. In another column, I record the preferred practice.
Here's an excerpt from the Capitalization section of one style sheet.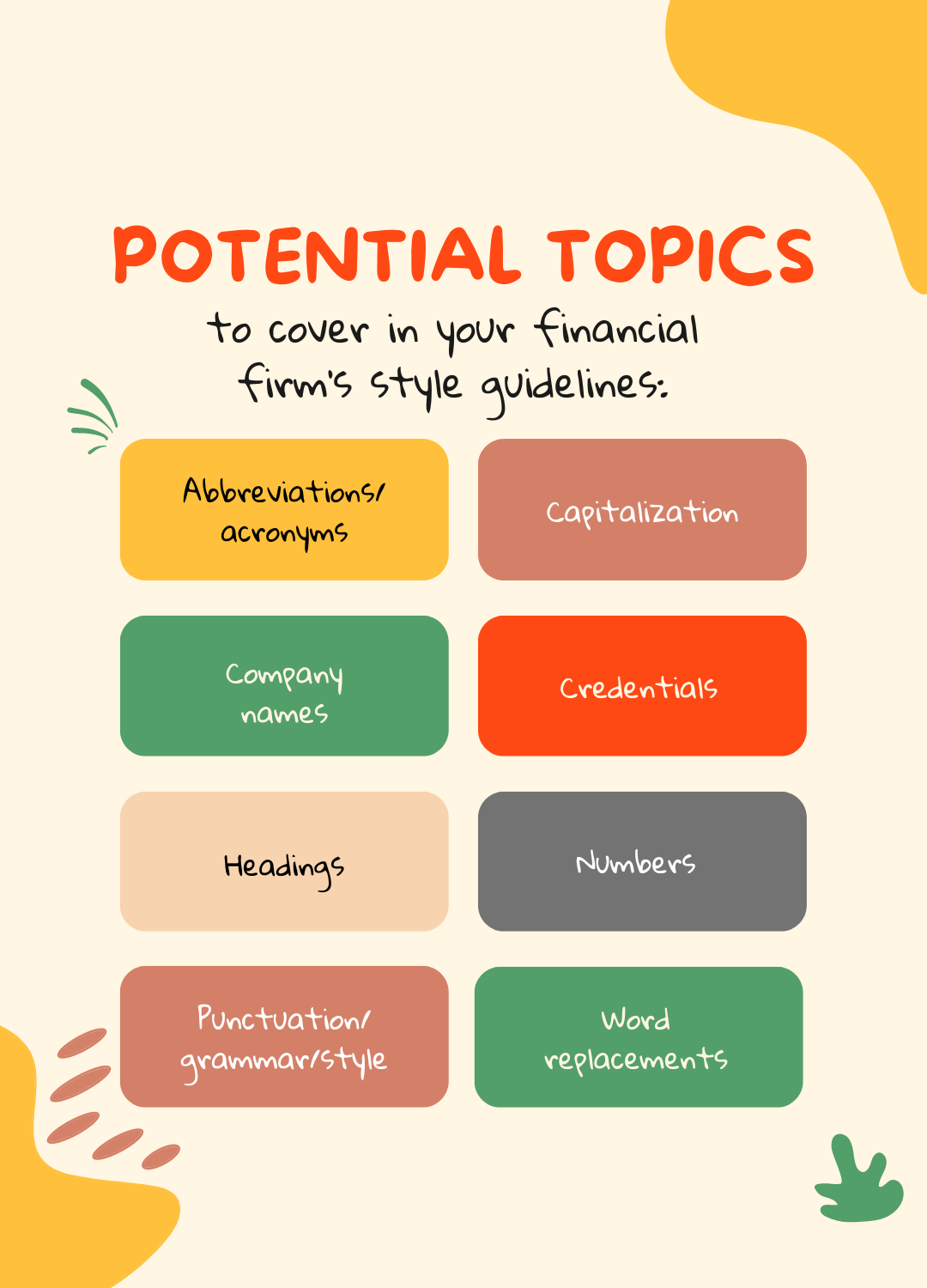 Section headings that I've used include the following:
Abbreviations/acronyms—for example, BRL→Brazilian real, 50 bps→50 basis points (0.50%)
Capitalization
Company names—identify your source for the preferred spelling of company names
Credentials—for example, use the ® mark with the CFP designation
Headings—for example, use sentence case and bold
Numbers—for example, SPELL OUT numbers 1 to 9, even in five-year Treasury
Punctuation/grammar/style—for example, use serial comma; DO hyphenate first-quarter & worst-performing WHEN used as ADJECTIVE; use a consistent number of decimal places
Spelling—for example, health care, NOT healthcare
Word replacements—for example, cap rate→capitalization rate
How long should your style guidelines be?
My client style sheets would typically fit on one page, if printed out.
I like the philosophy of Intelligent Editing, which recommends that your style sheet run no longer than four pages. The firm says in "Writing a Style Guide: What You Need to Know":
…bear in mind that the goal is just to focus on points of style where there is no right answer but where one usage is preferred by the organization. A style guide is not the place to teach your colleagues things that they should already know.
The longer your style sheet, the harder it will be for you and your colleagues to apply it consistently. It's harder for users to keep all of the issues in their heads, even if they scan the style sheet repeatedly.
If you already have style guidelines
If you already have style guidelines, please share them with writers and editors whom you hire, in addition to your company's employees.
You may struggle with getting your financial firm's writers to follow them. I've addressed your challenge in "Reader question: How to get writers to follow style guidelines?"
Image courtesy of adamr/FreeDigitalPhotos.net
https://www.investmentwriting.com/newsite/wp-content/uploads/2016/05/Brainstorm-ideas-for-your-publications-2.png
1080
1080
Susan Weiner, CFA
https://www.investmentwriting.com/newsite/wp-content/uploads/2016/12/investmentwriting_logo_2016.png
Susan Weiner, CFA
2016-05-03 05:58:32
2022-11-22 20:22:31
Style guidelines for financial services firms