Sometimes you get locked into writing about a topic in a certain way. It's not easy to develop a fresh perspective. If this describes you, try what I call the Shivering Turn Method.
In The Shivering: A Jennie Redhead Mystery, a private investigator tries to unscramble the anagram, "shivering turn." She says,
…because you cannot always see patterns if all the components are presented in a linear manner, I make a rough circle of the letters.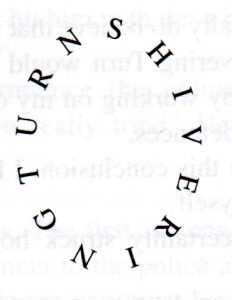 In the book, this helps her to crack the anagram in less than two minutes.
This made me think about a technique that you can use to reconsider your topic:
Put each of your main ideas on an index card.
Shuffle the cards, or spread them out on a surface in a random order.
Look for patterns and associations among your subtopics.
If you like this idea, you may also enjoy "Index-card approach to writing." Or, learn about mind mapping in Financial Blogging: How to Write Powerful Posts That Attract Clients.
Did you figure out the anagram? I confess that I did not. I'm not going to share the answer so I don't spoil the book for other readers of this well-written mystery.
Disclosure: If you click on an Amazon link in this post and then buy something, I will receive a small commission. I only link to books in which I find some value for my blog's readers.
https://www.investmentwriting.com/newsite/wp-content/uploads/2017/09/Untitled-design-1.png
315
560
Susan Weiner, CFA
https://www.investmentwriting.com/newsite/wp-content/uploads/2016/12/investmentwriting_logo_2016.png
Susan Weiner, CFA
2017-12-12 05:51:48
2017-11-13 09:24:45
Shivering Turn approach to organizing your thoughts for writing