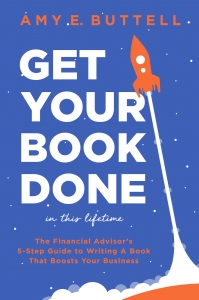 Have you ever considered writing a book? Amy Buttell, author of the forthcoming Get Your Book Done in this Lifetime: A Financial Advisor's 5-Step Guide to Writing a Book that Boosts Your Business shares her thoughts in this guest post about how writing a book could benefit you.
Target a growing niche with a book as a marketing tool
By Amy Buttell
As advisors seek to solidify their value propositions with their clients, niche marketing is fast becoming a necessity rather than a luxury. The 2019 Kitces Research Study on Advisor Marketing and the 2020 Financial Planning Process Kitces Research Study revealed that top advisors with a niche possess more pricing power, serve more clients, and gross more revenue versus top advisors without a niche.[i]
In fact, these niche-focused top advisors had clients with higher net worth and an average of 25 percent more investable assets.[ii] If you are an advisor who either wants to establish or build your niche, writing a book as a marketing tool can open the door to a more lucrative and more satisfying niche-based practice.
The value of books as marketing tools
Writing a book as a marketing tool establishes you as an expert in your field. When you write a book as a marketing tool on an area of your practice that you want to grow, you change people's perception of you and your practice. You also create a bank of content that you can draw on as you establish yourself as an expert, while shortening the trust curve with your prospects.
Like many advisors, you may be reluctant to write a book because you believe that you can't offer any information that isn't already available, given the tens of thousands of books already available on virtually all aspects of financial and retirement planning. However, there isn't a book out there that captures your process and the distinctive value that you offer your clients.
Books as marketing tools don't have to sell many copies—that isn't the point of writing one. Instead, the point is to position you as an expert and offer valuable information to prospects aligned with your niche and your process.
When you free yourself from the perceptions of what you believe a book is supposed to accomplish, you may find yourself reevaluating whether writing a book as a marketing tool is a good way to position yourself and your practice within a growing niche.
3 reasons to write a book
Here are three statements you can review to help you decide if it's time to write a book to help market your practice:
I'm not attracting clients who are in alignment with my advisory practices and values. If you agree, writing a book as a marketing tool can help you further define what you seek in a client while at the same time creating content that will help you attract the kinds of clients that you want. This type of mismatch indicates a messaging and communication problem—either you're afraid to turn down clients who aren't a good fit, or you aren't correctly communicating your value proposition, or both. Writing a book is a great way to clarify your process, your values, and the types of clients you want to attract. Even if you are attracting clients who are aligned, writing a book could still work for you if you want to build up a niche, establish yourself as a thought leader, and/or grow your practice.
My business is stagnant. In today's fast-moving advisory industry, failure to grow can create a downward cycle that pressures your business model to the breaking point. Writing a book focused on a growing niche that you have knowledge of and expertise in can help break that cycle by breathing new life and energy into your practice. Taking advantage of a slow period in your business by writing a book leverages your time productively and sets you up for a better future. If your business isn't stagnant, but you still want to build a more robust pipeline, writing a book as a marketing tool can definitely help, especially if you have a distribution strategy in mind to leverage a book.
I'm bored. Perhaps your business is successful, but you're in need of a new challenge. Writing a book is an excellent way to challenge yourself because you'll learn more about yourself and your business than you ever imagined, while creating a tangible product that will help grow your practice. In fact, once you write one book you might not be able to stop. As a professional writer who recently finished my own book, I can tell you that the experience is like no other. I learned more about myself and my processes than I ever would have thought. Plus, I gained confidence in myself and my business that has already resulted in a more successful business, even though my book won't be released until Jan. 31. Even if you're not bored, you might decide that writing a book as a marketing tool is beneficial enough to be worth the effort.
If you're still on the fence, think about all the potential clients you can reach with a book version of yourself. I'm not just saying this so that you can think about the business building benefits—I'm saying it because there are so many people in need of good advice who aren't getting it. Don't let them miss out on what you have to offer just because they don't know about you.
Amy Buttell is the author of Get Your Book Done in this Lifetime: A Financial Advisor's 5-Step Guide to Writing a Book that Boosts Your Business. She grows financial advisor practices through content and books. Her online home is at www.lakeeffectcreative.com. Connect with her at www.linkedin.com/en/amybuttell.
[i] "Kitces Research on Advantages of Niching in Time Use, Planning Approach, Pricing, and Productivity," Kitces.com, Aug. 24, 2020, https://www.kitces.com/blog/kitces-research-financial-advisor-niche-productivity-revenue-time-use-efficiency-pricing-models/
[ii] "Kitces Research on Advantages of Niching in Time Use, Planning Approach, Pricing, and Productivity," Kitces.com, Aug. 24, 2020, https://www.kitces.com/blog/kitces-research-financial-advisor-niche-productivity-revenue-time-use-efficiency-pricing-models/
https://www.investmentwriting.com/newsite/wp-content/uploads/2021/01/Amy-Buttell-headshot.jpg
1536
2048
Susan Weiner, CFA
https://www.investmentwriting.com/newsite/wp-content/uploads/2016/12/investmentwriting_logo_2016.png
Susan Weiner, CFA
2021-01-26 07:00:17
2021-04-28 16:24:55
Target a growing niche with a book as a marketing tool