Content is king. Asset managers increasingly agree with this statement. But many lack the resources to write great investment content.
My gut feeling about this was reinforced by the results of a survey conducted by the Mutual Fund Education Alliance and Back Bay Communications. One finding, according to the press release:
Less than a quarter (23%) of survey respondents have built dedicated content creation teams in house, and less than one in five (18%) use external agencies or freelancers.
The survey suggests that 57 percent of asset managers are trying to write great investment content without the necessary resources in place. Of course, the survey's sample was limited—including only 26 respondents from among members of the MFEA's Product and Marketing councils—so its results are not conclusive. Also, I'm not sure how "dedicated content creation team" is defined. Does it refer to all employees involved in writing and editing or only some of them?
I see investment firms tackling the need to produce content in three ways, only two of which are covered by the MFEA-Back Bay survey results. What's the missing method? It looks to me as if some rely on their investment professionals.
Option 1. Rely on investment professionals
Having investment professionals do the writing is great in the sense that investment professionals know the markets and their products. It's not great in the sense that investment professionals:
Are busy—they may not have time to write on top of their core responsibilities.
May not be good writers—after all, they were hired for their investment skills.
As asset managers continue to rely on investment professionals, some are training them to write better. Others are seeking out help on their own, which is why, I believe, my presentations to societies of the CFA Institute on "How to Write Investment Commentary People Will Read" have attracted great attendance. I'm offering "How to Write Investment Commentary People Will Read" as a webinar on June 23. I also offer customized corporate workshops and coaching.
Option 2. Outsource to freelance writers
When firms struggle to meet their writing needs internally, they may outsource. Even firms that have writers on staff may outsource at peak times, such as during the production of quarterly client reports or semiannual mutual fund reports. For ideas about how to outsource, read "Investment commentary–5 ways to outsource."
By the way, the outsourcing may not go solely to people with traditional editorial skills. Videos and podcasts have become increasingly popular. According to the survey, "White papers and videos (82%) are the most utilized tactics, with white papers cited as the most effective medium for content marketing (59%)."
Option 3. Hire writers and editors into staff positions
Some investment management firms have had writers and editors on staff for years. Others are recent converts.
Editorial staff falls into different parts of the organizational structure, which may influence the scope of the employees' roles—and their effectiveness. I've known people who work under the marketing, product management, or marketing operations department. When I worked in staff jobs, I reported to the company head or chief operating officer, probably reflecting the fact that I was the company's first writer.
I mention organizational structure because it makes a difference to the editorial staff's mandate. When the organizational structure communicates that writing is an important function, the quality of a firm's writing can benefit. That's especially true if senior management stands behind its writers in disagreements with the investment professionals. If the editorial staff is viewed as an operations function, with the goal of pumping out content as quickly as possible, quality may suffer.
Looking ahead: Writing great investment content rises in importance
I see investment managers paying more attention to creating and managing content. They're increasingly looking to provide content that's tailored to the needs of audience members as they move from being prospects to clients.
I can't wait to see how things evolve.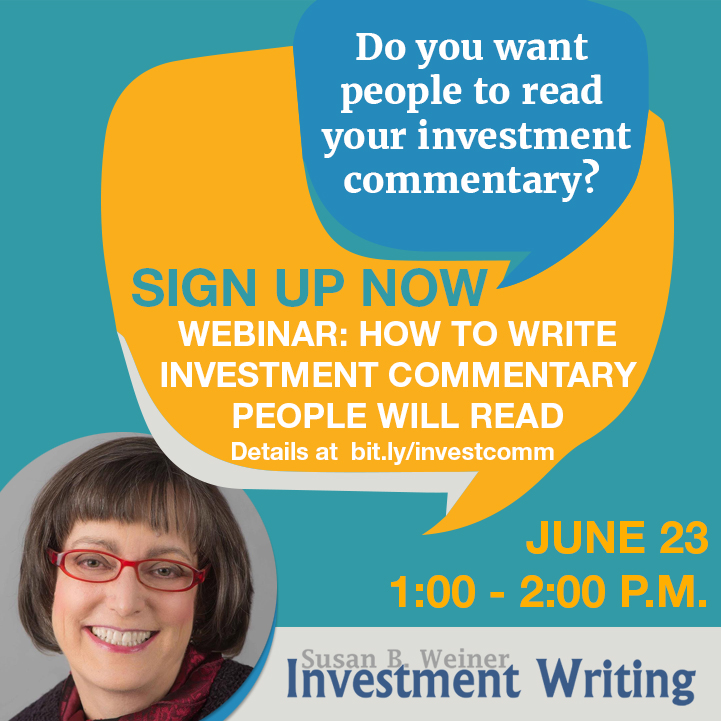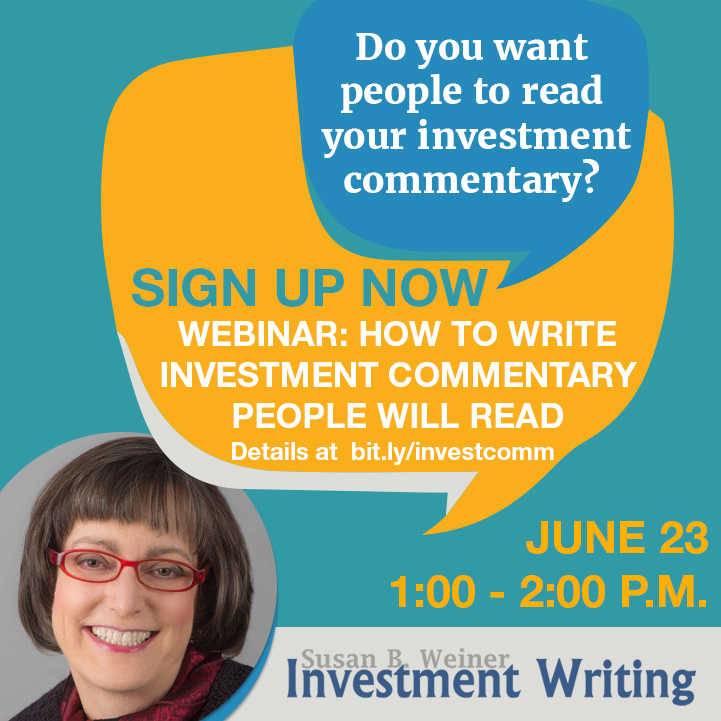 https://www.investmentwriting.com/newsite/wp-content/uploads/2016/05/wordle-investment-content.png
526
812
Susan Weiner, CFA
https://www.investmentwriting.com/newsite/wp-content/uploads/2016/12/investmentwriting_logo_2016.png
Susan Weiner, CFA
2016-05-12 05:16:57
2016-05-07 14:47:51
Who's writing the great investment content?