In less than 60 seconds you can supercharge the impact of sharing your Twitter name. Just follow my advice. Turn your Twitter name into a live link. You'll pick up more followers faster.
Don't do this
I was reminded of this issue when some colleagues shared their Twitter names as comments on a Facebook post. They shared their names in plain text. Like this: @susanweiner. In order to follow @susanweiner, any readers would need to copy-paste the name into Twitter to search on it, or manually type https://twitter.com/susanweiner. That takes time and effort.
Twitter name—share it like this
To make it more likely that people would follow me—and to make things easier for potential followers—I added a link to my Twitter page to the Facebook comment. It looked like this image: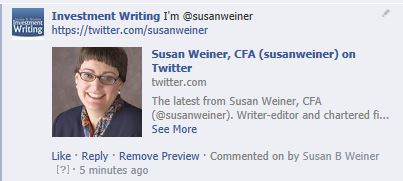 When possible, share your Twitter name as a live link. Like this: @susanweiner.
You'll gain more followers and they'll appreciate your making things easy for them.
YOUR Twitter tips?
Do you have tips for adding Twitter followers in a non-spammy way? Please share.
https://www.investmentwriting.com/newsite/wp-content/uploads/2014/06/Twitter-name-live-link-on-Facebook.jpg
181
403
Susan Weiner, CFA
https://www.investmentwriting.com/newsite/wp-content/uploads/2016/12/investmentwriting_logo_2016.png
Susan Weiner, CFA
2014-06-09 05:10:59
2015-08-27 10:45:29
Twitter power user's tip: Share your Twitter name as live link