What a delight! The Investment Writing blog has been named one of "7 Financial Advisory Blogs that Rock" on the ClientWise blog.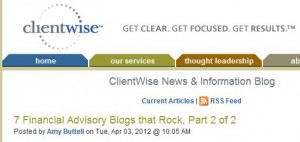 My blog was singled out for its "mission to bring clarity to the sometimes arcane and confusing world of financial writing, especially when done by financial advisors, investment advisors and wealth managers."
More financial blogs that rock
I'm honored to be in the company of outstanding bloggers named by this ClientWise post. They include
What YOU can share with another winning blogger
One of the seven bloggers who rock has taken my blogging class tailored to financial advisors. You can, too. But you'd better act soon. The class starts May 16. I don't plan to offer it again until 2013. Plus, I plan to raise the price significantly next time.
Register now for "How to Write Blog Posts People Will Read: A 5-Lesson Writing Class for Financial Advisors."

https://www.investmentwriting.com/newsite/wp-content/uploads/2016/12/investmentwriting_logo_2016.png
0
0
Susan Weiner, CFA
https://www.investmentwriting.com/newsite/wp-content/uploads/2016/12/investmentwriting_logo_2016.png
Susan Weiner, CFA
2012-05-01 07:10:36
2012-04-23 17:20:45
InvestmentWriting.com is one of "7 Financial Advisory Blogs that Rock"