Use photos carefully in your blog posts. You must respect the photographer's copyright. You can't simply grab and post any photo you find on the Internet. This is particularly challenging for bloggers who refer to celebrities or other public figures. It's not as if you can run out to snap your own photo of such a person.
Respect copyright law
I've been surprised to find financial advisors who have copy-pasted photographs from newspapers or magazines into their blogs. This is not legal, not even if you credit the source. For a quick overview of the issues, read the Lifehacker post on "The Best Ways to Be Sure You're Using Online Photos Legally."
Wikimedia Commons: A helpful resource
Wikimedia Commons is a free source of photos and other images, which can be used as specified by the photographer . I've found it particularly useful when I needed a photo of a national figure, such as Warren Buffett or Woody Allen.
Here's how Wikimedia Commons describes itself: "Wikimedia Commons is a media file repository making available public domain and freely-licensed educational media content (images, sound and video clips) to everyone, in their own language."
To find the image you seek, simply input the name into the search box in the upper right-hand corner of the Wikimedia Commons site. For example, here is part of the image you'll see if you input "Warren Buffett."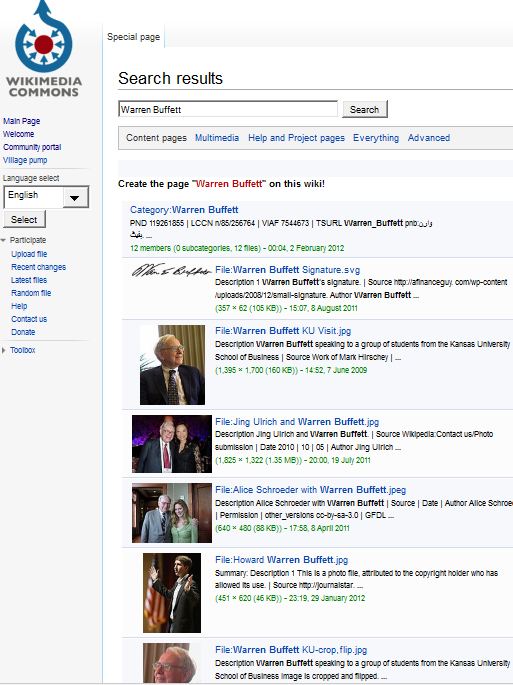 Each image has terms specified for its reuse. Be sure to read Wikimedia's explanation of the terms for reuse.
https://www.investmentwriting.com/newsite/wp-content/uploads/2012/11/Warren-Buffett-on-Wikimedia-Commons.jpg
685
513
Susan Weiner, CFA
https://www.investmentwriting.com/newsite/wp-content/uploads/2016/12/investmentwriting_logo_2016.png
Susan Weiner, CFA
2013-04-25 06:33:01
2015-08-28 11:56:06
When your blog demands a photo of a public figure