Two quick ways to boost your e-newsletter's reach
Getting more from your existing e-newsletter is a winning tactic. A friend's e-newsletter made me think of two simple steps you should take, if you haven't already acted.
1. Make your e-newsletter viewable as a web page
You want your readers to see your newsletter at its best. But that doesn't happen when they view email in a text-only format or with images blocked. Here's what an excerpt of my my newsletter looks like in text format: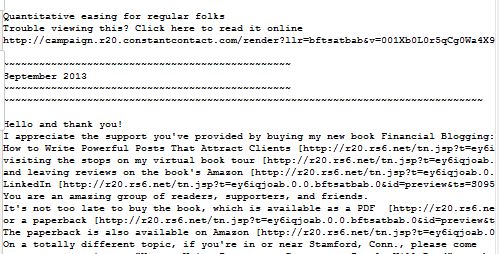 It looks much better with HTML enabled or in webpage format: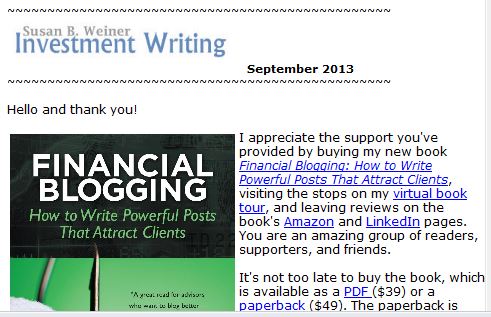 Constant Contact makes it easy to add a link that folks to click to read your newsletter online. Other e-newsletter programs should offer something similar. You'll end up with a link that looks something like the image below.
2. Add social sharing buttons
It's important to make your content easy to share on social media. Why? Because many people prefer to discover content via social media instead of e-newsletter subscriptions. Personally, I've cut way back on subscriptions, but I check social media daily.
Your e-newsletter program should make it possible for you to add social sharing buttons to your newsletters. Your readers can simply click to share in their preferred medium.
On a related note, your e-newsletter program should also automate the push of your newsletters to social media. I try to go an extra step by customizing the content of the automated status updates generated by Constant Contact. The words that work as a newsletter title may not make the most compelling status update. Also, when I originally published this post, Constant Contact automatically inserted the hashtag #constantcontact into tweets, which I find annoying.
Your tips?
If you have easy tips for boosting your e-newsletter's power, please share them. I always enjoy learning from you.
https://www.investmentwriting.com/newsite/wp-content/uploads/2013/09/sept-newsletter-text.jpg
254
499
Susan Weiner, CFA
https://www.investmentwriting.com/newsite/wp-content/uploads/2016/12/investmentwriting_logo_2016.png
Susan Weiner, CFA
2013-12-31 06:05:23
2019-12-10 19:25:35
Two quick ways to boost your e-newsletter's reach