Using LinkedIn to boost your blog: "LinkedIn Groups Help Blog Posts Soar"
One of my best posts for bloggers seeking to grow their readership isn't on my blog.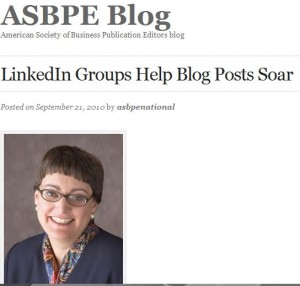 I wrote  "LinkedIn Groups Help Blog Posts Soar" as a guest post for the American Society of Business Publication Editors. It describes my accidental discovery of how sharing the right blog post with the right LinkedIn Group boosts your readership.
As I describe in the post, simply blasting your every blog post to every LinkedIn Group is not the recipe for success. In fact, you're likely to irritate more people than you attract.
Instead,
Be selective.
Show genuine interest in the responses that LinkedIn Group members post.
I sometimes wonder how many LinkedIn Group posts I can make before I'm perceived as too self-promotional. I suspect that your answers differs from the next person's. Also, the nature of the content probably influences your response.
If you've successfully used LinkedIn to promote your blog–or you have opinions about how bloggers use LinkedIn Groups–please share your story. I'd like to learn from you.
https://www.investmentwriting.com/newsite/wp-content/uploads/2016/12/investmentwriting_logo_2016.png
0
0
Susan Weiner, CFA
https://www.investmentwriting.com/newsite/wp-content/uploads/2016/12/investmentwriting_logo_2016.png
Susan Weiner, CFA
2011-06-14 15:11:38
2011-05-20 21:17:00
Using LinkedIn to boost your blog: "LinkedIn Groups Help Blog Posts Soar"