Your bad luck can become your good fortune
"How did you get that great website name?" People sometimes ask this question about my website's address: InvestmentWriting.com.
I wish I could say I was inspired. Instead, I was unlucky.
I felt devastated to learn that SusanWeiner.com was not available when I created my website in 2008. It seemed like bad luck that I'd be forced to use susan-weiner.com or a similar variation.
Adding to my misery, I discovered that the descriptive term "investment communications" wasn't available either. I'd been "director of investment communications" in my previous job, so that seemed like a logical choice.
Naming things is not one of my strengths, so I was delighted when Jeff Lerman, my website designer, suggested InvestmentWriting.com as my website's name.
I believe InvestmentWriting.com has served me well. I benefit from the URL identifying my niche as a writer. While "investment writing" isn't a frequently searched term, my website fares well when people search on the term. Plus, it's memorable and easier to spell (and pronounce) than SusanWeiner.com.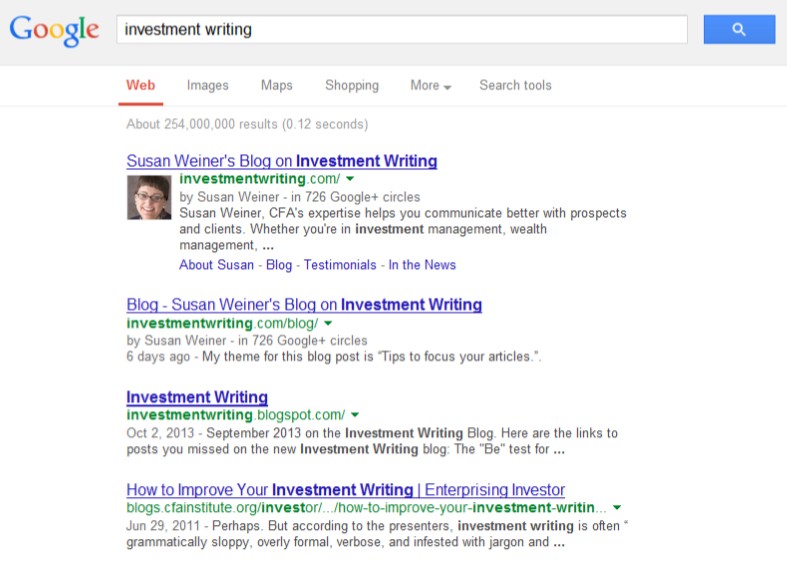 What does this mean for you?
I see two lessons from my experience.
1. Good things can come from disappointments. If SusanWeiner.com had been available, I'd have settled for a less memorable or search-friendly website name.
2. Asking for help can yield great results. My website name is just one of many good results I've achieved by asking others for advice. It pays to ask, although ultimately the decision rests with you.
If your bad luck has led to success, please share your story.
https://www.investmentwriting.com/newsite/wp-content/uploads/2014/04/investment_writing_logo_for_facebook.jpg
238
199
Susan Weiner, CFA
https://www.investmentwriting.com/newsite/wp-content/uploads/2016/12/investmentwriting_logo_2016.png
Susan Weiner, CFA
2014-04-01 05:28:17
2015-08-27 11:19:12
Your bad luck can become your good fortune