Financial white paper writers who say "yes"
Do you want a financial white paper writer who says "yes" to everything you write or suggest? I say "no." Financial white paper writers who push back can be the best friends of companies that aren't familiar with how to write great investment or wealth management white papers.
Don't get me wrong. Your white paper writer should respect your goals and desires. However, the best financial white paper writers will push you to create the best white paper possible. They will say "no" when your white paper is weak in the areas I discuss below.
Weakness 1. Problem identification and WIIFM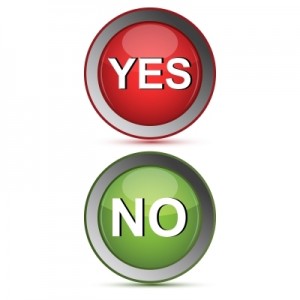 If your white paper doesn't identify a problem experienced by your target audience, then it's not going to attract prospects or convince referral sources to pass along your name. You need to answer the question of "What's in it for me?" (WIIFM) for your prospects. You should also understand the WIIFM for your business.
For example, imagine that you pose the topic of "401(k) plan types." Who cares? That sounds like a dull reference work that could only interest an ERISA attorney or defined contribution recordkeeper. But how about "the 401(k) plan characteristics that boost participation and simplify plan administration"? That's a winner that will help both participants and the plan sponsor. If your firm helps plan sponsors achieve those characteristics—or if this topic enhances your credibility as a provider of related services or products—then this topic helps you to achieve your business goals.
A good writer will ask the following questions early in their discussions with you:
Who is your target audience and what do you want them to do after reading the white paper?
What is your topic and why will your target audience care about it?
What problem does this topic solve for your readers?
When you and your writer get the answers right, you can attract and retain readers' attention. Your readers won't ask "Why the heck are you telling me this?"
Good white papers focus on solving problems, not promoting the firm that publishes them, as I explained in "White paper marketing: Walk a fine line." If you truly seek a white paper, your writer should say "no" when your draft becomes a brochure.
Weakness 2. Poorly explained concepts
Your experts know what they're talking about. But sometimes it's hard for them to explain their ideas in plain English. As a result, your readers won't appreciate the value of what you write in your white papers.
Take for example, the concepts of "asset allocation" and "diversification." These are easy for investment professionals to understand. However, they require explanation and perhaps even some examples to make sense to less sophisticated individual investors. A good white paper writer won't hesitate to push you on this.
Weakness 3. Poor organization and wording
Poor organization and bad wording will confuse your readers. They may even drive them away.
When you give a weak outline to good writers, they'll fight back. They'll propose a new, stronger outline that will let your ideas shine. They'll also polish your wording.
Look for financial white paper writers who say "no"
You need a white paper writer who'll be responsive to your needs. Sometimes that means saying "no" to the way your ideas are presented. That's part of the value that good white paper writers bring.
Image courtesy of digitalart/FreeDigitalPhotos.net
https://www.investmentwriting.com/newsite/wp-content/uploads/2016/02/yes-no.jpg
400
400
Susan Weiner, CFA
https://www.investmentwriting.com/newsite/wp-content/uploads/2016/12/investmentwriting_logo_2016.png
Susan Weiner, CFA
2016-04-05 05:50:10
2016-04-29 11:02:07
Financial white paper writers who say "yes"