5 proofreading tips for quarterly investment reports
Proofreading quarterly investment communications stresses people. Tight deadlines and client demands add to the pressures on a small department. However, creating checklists and processes will ease the strain. I have some suggestions to help you be accurate and avoid stylistic inconsistencies and typos.
This post started as a response to the tweet you see here.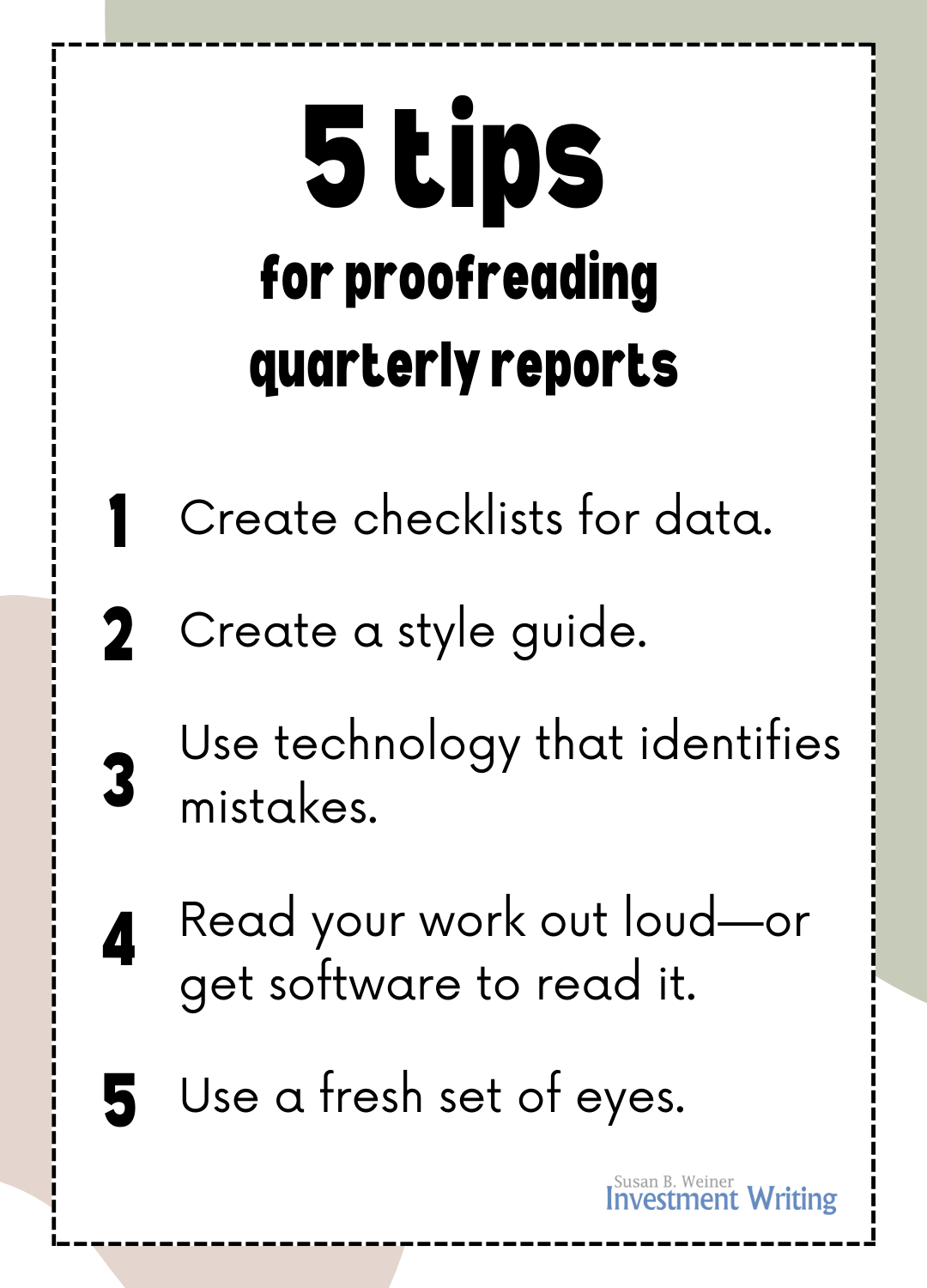 1. Create checklists for data
There's nothing worse than sending out a third-quarter report that's labeled as a second-quarter report. This almost happened to me early in my days as a director of investment communications. That near miss inspired my love of checklists.
When writing quarterly communications, create a list of data that must be updated. This is especially important if you start writing in a quarterly template document that holds the last quarter's data.
Another way that I manage this when updating documents with previous-quarter data is to turn on Microsoft Word's "Track Changes" feature. I know that most of the document should turn red with changes before I "accept all changes" and start proofreading.
A variation of this data checklist is a list of common errors that you review just before you hit "send" on your document.
2. Create a style guide
Typos, poor punctuation, and stylistic inconsistencies are more likely when you lack a style guide. You can adopt a standard style guide, such as the Associated Press Stylebook or The Chicago Manual of Style. However, you still benefit from a style guide specific to your company. Your guide will cover issues those guides avoid, such as how to spell the plural of "Treasury" or whether a portfolio is overweight "in" or "to" a sector.
Read more about my take on style guides for investment managers.
3. Use technology that identifies mistakes
Your word processing software's grammar and spell checker isn't perfect, but it's still worthwhile. I supplement mine with PerfectIt software, which checks for consistency in your usage.
There's also software that will help you to identify larger issues of style and grammar. Hemingway is a free app that assesses the difficulty level of your sentences and suggests some ways to improve them. Grammarly is another option.
4. Read your work out loud—or get software to read it
When you do heavy editing, it's hard for you to see the typos and other weaknesses in your work. That's why I use Microsoft Word's "Speak" function to read text out loud, as I described in "Why I love Speak for proofreading."
5. Use a fresh pair of eyes
In an ideal world, a professional proofreader will review your work. That happens at some of my larger clients. When my client agreement permits, I often hire an outside proofreader to review the first complete draft. A pro who knows the industry will do the best job but any set of competent fresh eyes is likely to help.
If you lack the luxury of outside help, see if a colleague can review your work. Or, leave your work overnight—or at least for an hour—before you review it with fresh eyes.
More resources
For more proofreading tips, check out "Six ways to stop sending emails with errors."
Six ways to stop sending emails with errors
Six ways to stop sending emails with errors
Image courtesy of num_skyman at FreeDigitalPhotos.net.
NOTE: This post was updated to remove references to the free Consistency Checker, and hOw wE eDiT wRiTTeN cOnTenT, which are no longer available. The post was also updated on Dec. 18, 2022.
https://www.investmentwriting.com/newsite/wp-content/uploads/2014/06/ID-100273853.jpg
266
400
Susan Weiner, CFA
https://www.investmentwriting.com/newsite/wp-content/uploads/2016/12/investmentwriting_logo_2016.png
Susan Weiner, CFA
2014-06-24 05:21:31
2022-12-18 11:14:54
5 proofreading tips for quarterly investment reports