8 ways blogging is like bicycling
Bicycling is my favorite summer exercise. The more I bike, the more I'm struck by the similarities between bicycling and blogging.
1. It gets easier with practice
Falling off and skinning my knees when I learned to ride a two-wheeler was no fun. But after a while, I stopped falling and I covered every mile with greater ease.
In a similar way, blogging gets easier as you practice more. Like figuring out where to place your weight to stay upright on your bike, you develop a sense of the proper balance among your blog's components. As you pedal with less effort, you also write with less effort.
2. It's easier to follow trails
I'm a fan of bicycle trails like the Minuteman or Nashua River Rail Trails. Following a path that's paved and marked with signs is less stressful than navigating the Boston area's road maze, having to make decisions at every corner.
As a blogger, you'll find it easier to follow well-marked writing paths. For example, a list post follows a simple structure:
Introduction of your theme
A numbered list of points addressing your theme
Conclusion or call to action
I've described more models in the following posts:
3. Shorter is easier
It's easier for me to cover five miles than 50 miles on my bike. Still a five-mile ride is so short that it's unsatisfying. I like to cover at least fifteen miles on a ride.
Shorter is easier for bloggers, too. That's why I recommend a length of 250 to 400 words for beginning bloggers. I typically run about 400 to 600 words. But just as I occasionally stretch myself in a long bike ride, I sometimes write longer. Most people will struggle to say something significant in less than 250 words unless they're using a nontraditional form, such as a podcast, video, or infographic.
4. Visual appeal matters
Some of my favorite bike trails follow rivers, offering plants, wildlife, and water to delight my eyes.
Visuals—photos and other images—are important to blog posts, too. They help attract the attention of readers. They also illustrate your points, aiding your readers' understanding.
Sometimes the visuals of a bike ride and a blog post overlap. I've written some blog posts, such as "Focus your blog post or lose your readers," inspired by bike rides and illustrated by photos taken on those rides.
5. A buddy helps
I almost always bicycle with my husband. We enjoy exploring new areas together. He pushes me to bike farther than I would go on my own. He's also my mechanic, fixing problems I can't tackle alone.
A blogger can benefit from two kinds of buddies, in my opinion.
First, a buddy can encourage you, as I described in "How a blogging buddy can help your financial planning or investment blog" and "Blogging buddies: Financial bloggers' secret weapons."
Second, a virtual assistant or more technically skilled helper can manage challenges you can't—or don't want—to handle, as I described in "9 Ways a Virtual Assistant Can Streamline Your Financial Advisor Blogging" on Michael Kitces' blog.
6. Sometimes you wipe out
I still remember wiping out my bicycle in the Provincetown dunes on Cape Cod. It was my first time using hand brakes. I was used to a one-speed bike on which I stopped myself by pedaling backwards. That didn't help me as I gathered speed riding downhill. I gained my last—I hope—skinned knee of my adult years.
As a blogger, you'll make mistakes. They'll be less physically painful, but they'll still sting. For example, one time I scheduled two blog posts on the same day. Other times, I've written posts for which I had high hopes, but they failed to attract the attention I desired. However, just as I learned to use my bike's hand brakes, I've become more skillful at blogging. You will, too.
7. Good equipment and precautions help
My bicycling became more enjoyable when I upgraded from a bike with lever gears and dropped handlebars that forced me to hunch over. Now I only ride bikes with dial gears and straight handlebars. It's so much more comfortable.
My helmet isn't as comfortable. However, I wear it on every ride for protection.
For your blogging comfort, find a platform, such as WordPress, that's suited to your level of technical expertise. You may also find my book, Financial Blogging: How to Write Powerful Posts That Attract Clients, helpful.
For protection, make sure that you follow best practices for website security. If you allow comments on your blog, consider getting help from an anti-spam plugin. I've had a good experience with the Anti-spam plug-in, which has replaced Akismet for me.
8. It helps to share the load
A well-prepared cyclist carries a heavy load. It might include a pump, spare tube, a lock, tools, and extra water. It adds up.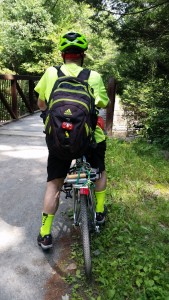 I'm lucky that my husband carries the extras in his backpack. My load is light—just whatever I carry in the bag strapped around my waist.
In blogging, it also helps to share the load with others. That might mean recruiting other people to post on your blog. You might use guest bloggers. Or, you can recruit other members of your firm to participate in a group blog.
Sharing the load with other bloggers eases your burden, assuming that they're reliable. Just as I'd be disappointed if my husband left his tire repair kit at home, you won't like it if your fellow contributors let you down. I've written about how to keep a group blog going in "How to manage a group blog: Financial advisor edition." When it works well, it's wonderful.
For me, the joy of bicycling comes from savoring each experience. I hope you find the same satisfaction with blogging.
https://www.investmentwriting.com/newsite/wp-content/uploads/2015/09a/Susan-bicycling-2.jpg
1152
2048
Susan Weiner, CFA
https://www.investmentwriting.com/newsite/wp-content/uploads/2016/12/investmentwriting_logo_2016.png
Susan Weiner, CFA
2015-09-15 05:12:58
2018-04-24 16:11:30
8 ways blogging is like bicycling