EARLY BIRD rate expires JUNE 22 for highly rated blogging class
Time is running out to register at the Early Bird rate for "How to Write Blog Posts People Will Read: A Self-Paced 5-Lesson Writing Class for Financial Advisors." This rate, exclusively for my e-newsletter subscribers and clients, expires at 12 midnight on Wednesday, JUNE 22.You will find details about the class on the registration page.
You will learn how to
Generate and refine ideas for blog posts that will engage your

readers

Organize your thoughts before you write, so you can write more quickly and effectively
Edit your writing, so it's reader-friendly and appealing

Here's what advisors say: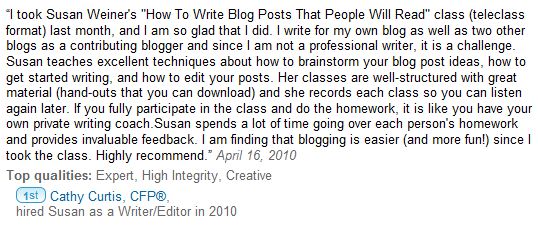 "The class is great! I'm really getting a huge amount of value — there really is a process to writing."
"Loving the blog writing class I am taking with @susanweiner #FF"
"Susan's coaching is a classic case of 'under-promise, over-deliver.' I highly recommend her as a writing coach or teacher. Her coaching has improved the quality of writing in my blog posts. My writing skills were very rusty when we started. Susan's practical, insightful suggestions–along with her Blog Post Preparation Worksheet–have been an incredibly valuable resource."
The class format has been tweaked to accommodate your summer vacation and busy periods. So don't delay. Sign up TODAY for "How to Write Blog Posts People Will Read"!
Questions? Call me at 617-969-4509, email me at info@investmentwriting.com, or read the class FAQ.
https://www.investmentwriting.com/newsite/wp-content/uploads/2016/12/investmentwriting_logo_2016.png
0
0
Susan Weiner, CFA
https://www.investmentwriting.com/newsite/wp-content/uploads/2016/12/investmentwriting_logo_2016.png
Susan Weiner, CFA
2011-06-17 07:42:42
2011-06-10 18:45:27
EARLY BIRD rate expires JUNE 22 for highly rated blogging class