Technology tip: How to create a low-tech virtual class
"How can I create a for-profit virtual class without spending lots of money?"
Several people have asked me this question, so I figure it's time for a blog post sharing my low-tech secrets.
I'm no techno-geek. If I can manage the technology discussed here, so can you. None of it is outrageously expensive. In fact, some of it is free.
My class technology challenges focused on five areas:
Registration
Live classes
Pre-recorded classes
Discussion forum
Surveys
Registration
I need an automated way to collect student information and payments. I currently use Eventbrite.com, which I migrated to after a free trial of Constant Contact's Events feature, which was brand-new back then. I like Eventbrite because it lets me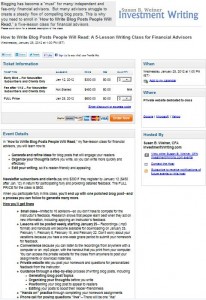 Create a simple web page to promote my class
Create a custom URL for my class
Customize the information I collect from registrants
Collect credit card payments via PayPal
After I created my first class web page on Eventbrite, I've simply tweaked the wording for subsequent classes. I don't pay anything to create an event in Eventbrite. The firm makes money by charging me 2.9% of my students' fees. PayPal also charges a fee.
If you use Constant Contact for your e-newsletter, check out its Events feature. I imagine it has improved since its debut when I tried it.
By the way, I'd like to thank Kristen Luke of Wealth Management Marketing for introducing me to Eventbrite in a Twitter exchange.
Live Classes
I've heard stories about webinar technology failing to perform as desired. Those stories, plus my concern about expenses, drove me to initially teach my live classes using a combination of telephone conference calls (FreeConferencing.com) and handouts for students to print out ahead of time so they could follow along as I spoke.
This low-tech approach had an unexpected benefit. Students told me they liked that they weren't tied to their computers for class. I think some of them dialed in from out on the road.
As a teacher, I like FreeConferencing.com because it offers a free online console where I can see who is speaking. I have a terrible memory for faces and names. The console allows me to overcome this weakness and call students by their names.
FreeConferencing.com lets you record calls. It also hosts the recordings at a custom URL at no charge. This helps you to accommodate students who miss any live calls.
Pre-recorded classes
When I initially taught my blogging class, I essentially lectured the students on the call. I struggled to get class participation, so I decided to switch to pre-recorded lessons, plus live calls focused on discussion.
I used Audacity free audio recording software to record and edit my lessons. I'm so glad that my podcasting friend, diet coach Sandra Ahten, told me about Audacity. Without her tip, I would have tried to record an entire lesson non-stop into a digital audio recorder. That would have been a disaster.
However, Audacity is the one piece of technology that nearly drove me to tears after 20 hours of trying to produce my first 30-minute recording. Thank goodness for my techie husband's patience, online research, and coaching.
Some of my problems stemmed from the fact that the then-current version of Audacity didn't support Windows 7, but there was nothing on the Audacity website to make this clear. Once my husband discovered the beta version of a Windows 7-compatible Audacity, my problems became manageable.
For a quick overview of Audacity, you can probably find instructional videos on YouTube.
Pay attention to tracks on Audacity. If you don't, you may unwittingly record one track simultaneous with another. That's a great capability if you're recording music, but your students won't enjoy hearing two sections of your lecture at the same time. To avoid this problem, make sure you drag your cursor to the far right side of your Audacity screen before you start recording a new section.
Discussion Forum
I need a private website where I can post messages, handouts, and recordings. In addition, students need a place to have discussions and post their homework. For this

purpose, I set up a Ning forum, which I'd learned about from tech-savvy financial advisor Russ Thornton of Wealthcare Capital Management. I use the most basic Ning plan, Ning Mini.
For me, the threaded conversations beat the heck out of free alternatives, such as Yahoo Groups or Google Groups.
Surveys
You may not realize this, but online surveys can help you boost student satisfaction and gain useful feedback. I use the free version of SurveyMonkey to survey students about their interests and needs after they've registered, but before the class starts. I also run a post-class evaluation survey.
What class or event are you planning?
I'd like to learn about the online classes you're planning. Also, please share your tips for running low-cost virtual classes.
https://www.investmentwriting.com/newsite/wp-content/uploads/2016/12/investmentwriting_logo_2016.png
0
0
Susan Weiner, CFA
https://www.investmentwriting.com/newsite/wp-content/uploads/2016/12/investmentwriting_logo_2016.png
Susan Weiner, CFA
2012-05-22 05:05:13
2016-02-12 13:07:32
Technology tip: How to create a low-tech virtual class