Press Release: Top Tips for Creating Financial Blogs That Attract Clients
NEWTON, MASS.—August 1, 2013—It's tough for financial advisors to stand out in a world of lookalike products and services. A leading consultant on financial advisor communications says blogging is a great way for them to display the personality and expertise that spur referrals and new clients.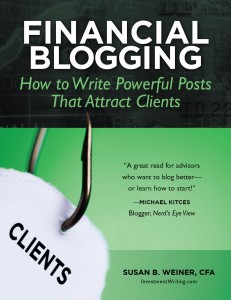 Communications consultant Susan Weiner, CFA, author of a new book, Financial Blogging: How to Write Powerful Posts That Attract Clients, says, "Not only do advisors who blog regularly and effectively  win more new clients, but they also attract clients who are good matches for them."
Weiner offers the following tips for writing blog posts that attract new business.
Identify your target audience. The most effective financial blogs address a narrowly defined audience. For example, you might target young couples who are struggling with budgets, raising a family, and other professional and personal challenges. Focus, so your targeted readers feel as if you're speaking directly to them. You will stand out from your competitors.
Emphasize WIIFM (what's in it for me). Everybody's busy. Like you, they're suffering from information overload. Clients and prospects will only read your blog if you show them "What's in it for me?" So, the trick is to get them excited about how your topic will improve their financial and personal lives. You can do this most effectively after identifying your target audience.
Use catchy, informative titles and headings. Make them convey the main points of your articles or blog posts. Use strong words to get make them appealing.  For example, which article would you read? One entitled "IRA Records" or "Save Your IRA Records Now, Or Pay More Taxes Later"? Injecting WIIFM into your title will pull in the many people who only skim most written materials.
Give readers an incentive to share their contact information with you. You're blogging to bring people into a relationship with you. So offer them a free financial report, seminar, newsletter, or consultation in return for their email address. Target their WIIFM with your freebie—and require little or no information beyond the reader's email address—to yield the maximum number of leads for your company.
Identify and use keywords to make your blog easy to find. If you know your target audience and the services you'd like to market to them, then you can identify the key words they'll use to search for advisors like you. Sprinkle these words in your blog, especially in your titles and headings. You can research keywords using tools such as http://www.googlekeywordtool.com/.
Post regularly to develop an ongoing relationship. You'll lose readers if you go without posting for weeks at a time. If it's hard to come up with ideas or to write at busy times of the year, there are plenty of techniques that can help. For example, develop an editorial calendar, stock up on "evergreen" posts that are good at any time, and use guest bloggers.
Write clearly and concisely. When readers feel they're slogging through a swamp of words, they'll abandon you. Clear, short, direct prose is usually best. Have an objective reader review your text.
Avoid common punctuation and grammar errors. You may think no one notices, but they do. They may even wonder if you're as sloppy with your clients' financial assets as you are with your words. Hire a proofreader or get a colleague to review your work.
Financial Blogging: How to Write Powerful Posts That Attract Clients is a 107-page book available via InvestmentWriting.com as a PDF file for use on computers and e-readers for $39 and as a paperback for $49. The paperback is also available from Amazon.
CONTACT: Susan Weiner, 617-969-4509, info@investmentwriting.com, @susanweiner
 ###
This page was changed on Oct. 16, 2013 to update the information.