Refresh your grammar and usage skills with Mistake Monday
Test your editorial skills on Mistake Mondays! This weekly feature on the Investment Writing Facebook page displays samples of poorly written or inadequately proofread content for readers to critique.
Readers often come up with great suggestions for tweaking the content. You may find inspiration in their comments. At a minimum, you'll receive a mini-refresher on how to write and edit well.
Here are some examples of items highlighted on Mistake Monday. If you can't find the mistakes, maybe you should be reading the Mistake Monday posts.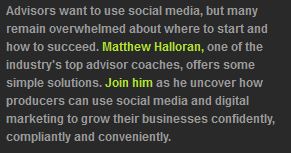 Thank you, Mistake Monday commenters! You make Mistake Monday a fun learning experience.
P.S. I make some of these mistakes, too. It's not easy proofreading oneself, especially in a time crunch.
P.P.S. Have a good example for Mistake Monday? Send it along!
https://www.investmentwriting.com/newsite/wp-content/uploads/2016/12/investmentwriting_logo_2016.png
0
0
Susan Weiner, CFA
https://www.investmentwriting.com/newsite/wp-content/uploads/2016/12/investmentwriting_logo_2016.png
Susan Weiner, CFA
2012-05-21 09:18:43
2012-05-21 08:56:23
Refresh your grammar and usage skills with Mistake Monday