Storify as a tool for online resource lists
UPDATE: The Storify website no longer exists, so please ignore this post.
Sometimes you want to share a list of resources with links and colorful thumbnails. If you don't want to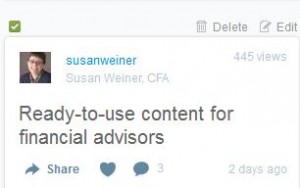 spend a lot of time on your list, Storify can help. For instructions on how to create a Storify story, read through the guided tour.
Advantage 1: Spend less time creating clickable links
Normally I create a clickable link on my blog by typing or copy-pasting the content's title, opening the link box, and then copy-pasting the website address. With Storify, I simply copy-paste the website address into a box on my computer screen. Storify automatically generates a thumbnail image that serves as your clickable link.
This feature isn't limited to online articles or websites. It also applies to tweets, YouTube videos, and more. When you insert the URL of a tweet, Storify displays an image of the tweet. Later on, when you publish your story, the site will ask if you'd like to notify the authors of the tweets that you've quoted.
Advantage 2: Save time sourcing images
Storify automatically generates thumbnails, as I mentioned above. Without this feature, you'd need to do one of the following.
Find an image from an independent source to illustrate your piece. You'd need to pay for the image or identify it in the manner requested by its creator, or possibly do both things.
Create an image from the content you're quoting. For example, you can create and use a screenshot of a tweet without violating copyright. Copyright may become an issue when you capture images that you don't own. So far Storify hasn't run into major issues on this count.
Go without any image knowing that this makes your content less likely to catch readers.
Advantage 3: You don't need a blog or website
Your story will exist on Storify.com, so it's no problem if you don't have a blog or website.
Of course, hosting by Storify is a negative, too. Even if your story attracts many viewers, it won't boost your website or blog's ranking by search engines. This drawback is why I'm using Storify only for quickly compiled list posts. You can view my Storify stories, including my popular piece on "Ready-to-use content for financial advisors."
If Storify intrigues you, but you need to draw people to your blog, consider using the Storify widget for WordPress. I've read mixed reviews of the widget, so please let me know how it works for you. I have not used it myself.
Have you used Storify?
If you have used Storify, please comment or share a link to your story below. Here's an example of how the CFA Institute uses Storify for conference coverage.
https://www.investmentwriting.com/newsite/wp-content/uploads/2013/03/Ready-to-use-content-Storify.jpg
192
306
Susan Weiner, CFA
https://www.investmentwriting.com/newsite/wp-content/uploads/2016/12/investmentwriting_logo_2016.png
Susan Weiner, CFA
2013-05-07 05:57:05
2022-07-01 15:18:23
Storify as a tool for online resource lists