My blogging class students' blogs
The students in my blogging classes inspired me to write my forthcoming book teaching advisors how to write blog posts that attract clients. To thank them, I invited past participants to share information about their blogs. This post is the result.
Bloggers in alphabetical order by last name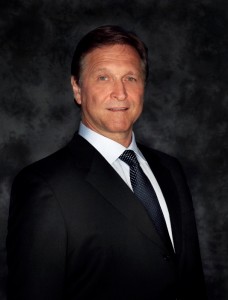 Vernon Budinger
Latin America Structured Finance Advisors, LLC
Website: Latin America Structured Finance Advisors, LLC
Featured post: At What Height Does A Seawall Protect From A Tsunami?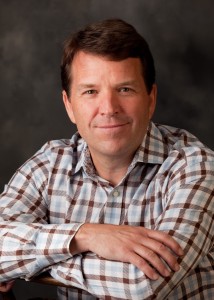 John Christianson
Highland Private Wealth Management
Blog: Wealth Clarity Blog
Featured post: Why Courage is Important to a Life Fully Lived—I chose this post because of my growing interest in writing about the intersection of money and abundant life, or what I'm calling living fully.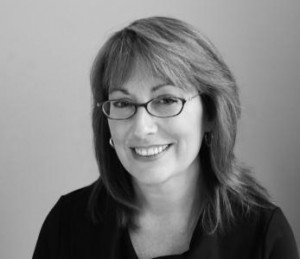 Sheri Iannetta Cupo, CFP®, Founding Principal
Sage Advisory Group, LLC
Blog: Sage Broadview Blog
Featured post: Financial Life Planning: The Astounding Benefits of Gratitude—I personally went through a lot in 2008 and I used what I learned to change me—and to change the direction of my firm. Although always holistic in our approach, we now have a much bigger focus on the LIFE in Financial LIFE Planning. And I have learned to make more room in my day for gratitude, meditation and more time with my family.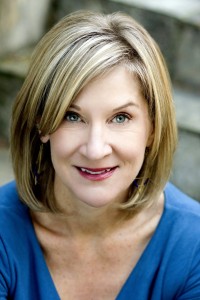 Cathy Curtis
Curtis Financial
Blog: Of Independent Means
Featured post: Getting Comfortable With The Uncomfortable—I like this post because it is short! And I think the analogy with CrossFit and Investing works well. I wanted to appeal to my  target market….savvy women and lots of them are doing work-outs such as CrossFit.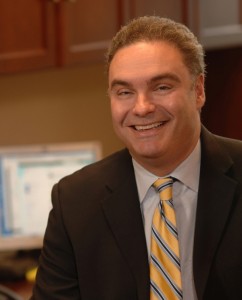 William L. Gaul
Blogs: TCI Blog and Just Getting Started, his personal blog
Featured post: Getting To "Why" At Work And Life—I find writers are effective when they are vulnerable; you have to be willing to share about yourself in order for clients to feel comfortable with you. This post captures as much about me as it does my skills as an advisor.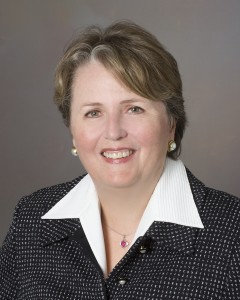 Bonnie B. Hartley, President
Transition Dynamics, Inc
Blog: Zoom Out Blog (also available on Flipboard for iPhones and iPads at http://flip.it/Hc3qO)
Featured post: Contingency Planning: Keeping the rug firmly under your family's feet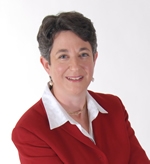 Eve Kaplan, CFP® Practitioner
Blog: Kaplan Financial Advisors
Featured post: Downtown Abbey Financial Lessons—It's often hard to make personal finance blogs interesting or compelling—it helps if the public is engaged in something "fun"—hence my light piece on "Downton Abbey Financial Lessons." It had excellent traffic—4,300 views (approx. 5-10x the normal number).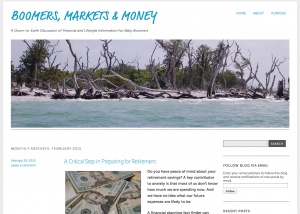 Helen Lambiase
Boomers, Markets & Money
Blog: Boomers, Markets & Money
Featured post: A Critical Step in Preparing for Retirement—I chose this post because it touches on some of the major goals I am trying to achieve with this blog:
Share the "pent-up" wisdom of Baby Boomers
This generation feels tremendous anxiety regarding retirement. Reasons for this stress include the volatility of financial markets in recent years and the struggling economy.  I focused on aspects of retirement planning we can control; saving and organizing.
I am striving to use as many of my own images as possible to engage the reader.  At the same time, I aim to provide good quality information that people can digest quickly.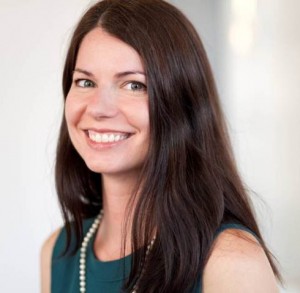 Sara Stanich, CFP, CDFA
Raymond James Financial Services, Member FINRA/SIPC
Blog: Cultivating Wealth
Featured post: How We Saved $50,000 Per Year has been my most popular post.  I didn't write it with SEO in mind, but apparently people are searching the term "how to save 50000" every day.  Although my blog isn't about budgeting or money-saving tips, the article is pretty personal and I think really helps potential clients connect to me.  My core clients are high income NYC couples with young families, and they can relate to this!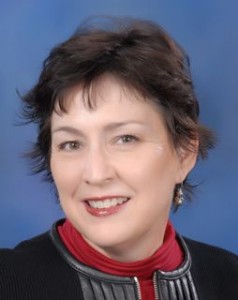 Tracy B. Stewart, CPA, PFS, CFF CDFA, CFP
Blog: Divorce & Money 
Featured post: The Number: How Much Spousal Support to Seek?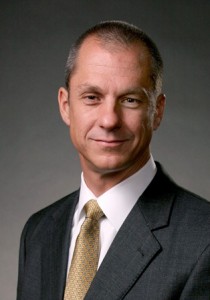 Roger P. Whitney, CFP®, CIMA®, CPWA®, AIF® 
Partner, WWK Wealth Advisors
Blog: WWK Wealth
Featured post: Budgeting Made Easy—This was my first attempt at a pictograph and many clients and contacts have mentioned it to me as one of their favorites.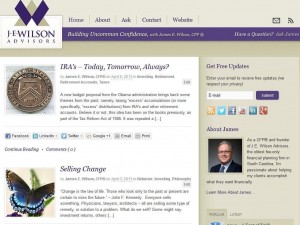 James E. Wilson, CFP®
J.E. Wilson Advisors, LLC
Blog: J.E. Wilson Advisors
Featured post: The 5 Things Successful Investors Know—I chose this post because it is a good summary of characteristics successful investors exhibit.
Thank you!
I'm grateful for the contributions of all of my students. That means the men and women listed above, plus those who remain anonymous.
https://www.investmentwriting.com/newsite/wp-content/uploads/2016/12/investmentwriting_logo_2016.png
0
0
Susan Weiner, CFA
https://www.investmentwriting.com/newsite/wp-content/uploads/2016/12/investmentwriting_logo_2016.png
Susan Weiner, CFA
2013-05-09 05:39:52
2015-04-15 15:35:42
My blogging class students' blogs