As you may know, I edit a monthly magazine for financial advisors. I'm typically juggling tasks for several issues of the magazine at one time. In case you're struggling with a similar project—for example, managing a multi-contributor blog—I'm sharing my checklist for each issue of the magazine.
I create a checklist that lists all of the articles in the left-hand column, and all of the steps that an article can go through across the top.
Here's an image of the top of my checklist. Names have been changed to protect the innocent.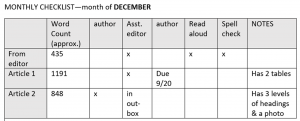 Here's what each column means.
"Word count" is in the second column because length affects how many articles I can squeeze into one issue.
The "author" column tracks whether I've sent an article to the writer for clarification. You'll notice there are two columns labeled "author." I sometimes contact authors before sending an article to my assistant editor to review. I typically send articles to the authors after my assistant editor has reviewed them in addition to me. Unless our changes are minimal, I give authors a chance to check that our edits haven't introduced inaccuracies into the articles.
The "assistant editor" column tracks if I've put the article in my email outbox to wait until I've collected enough to send them to my assistant editor for review.
I don't always have time to "read aloud," as mentioned in the sixth column, but it's a great way to find mistakes that our eyes often gloss over. It's a technique that I discuss in "Why I love Adobe Acrobat Pro for proofreading" (note that I now use the text-to-speech feature in Microsoft Word instead of converting to Acrobat).
"Spell check" refers not only to the spell-checking feature of Microsoft Word, but also to the tools I mention in "My three main software tools for proofreading."
The "NOTES" column I make notes for the person who oversees the magazine's production.
I hope you find this table helpful in managing an important process in your work life.
https://www.investmentwriting.com/newsite/wp-content/uploads/2019/08/PROCESS-cHECKLIST.png
306
406
Susan Weiner, CFA
https://www.investmentwriting.com/newsite/wp-content/uploads/2016/12/investmentwriting_logo_2016.png
Susan Weiner, CFA
2019-09-17 05:13:09
2019-10-07 18:18:03
Managing magazine articles