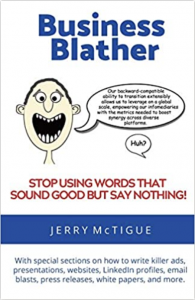 This blog post was inspired by a section in Business Blather: Stop Using Words That Sound Good but Say Nothing! by Jerry McTigue. As you know, I agree with the mission of this book.
Delete meaningless claims
In a section called "Enough with the platitudes already," McTigue criticizes the "litanies of clichés and banalities writers believe exude a corporate luster simply because virtually every corporation proclaims them." He adds, "Unverified off-the-shelf pronouncements are innumerable—as many bloated corporate documents attest to."
In the world of financial advice, this means statements such as "We provide superior customer service."
Turn meaningless claims into meaningful claims
What's the solution for this kind of writing? McTigue says, "Prove it. Illustrate it. Support it."
In the area of customer service, do you have a case study documenting how your firm's service truly goes beyond the ordinary? That's a good place to start.
As McTigue says, "Replace those threadbare boasts with real substance, solid evidence, credible endorsements."
You may enjoy this book
Overall, McTigue's book is an entertaining, easy-to-read book. It has many powerful before-and-after examples of bad writing transformed into effective writing.
Note: I received a free review copy of this book.
Disclosure: If you click on an Amazon link in this post and then buy something, I will receive a small commission. I provide links to books only when I believe they have value for my readers.
https://www.investmentwriting.com/newsite/wp-content/uploads/2022/01/Blog-post-images-1.png
1080
1080
Susan Weiner, CFA
https://www.investmentwriting.com/newsite/wp-content/uploads/2016/12/investmentwriting_logo_2016.png
Susan Weiner, CFA
2022-06-21 05:14:48
2022-01-24 14:45:10
Down with meaningless claims!