Does your article pass these writing tests?
Are you thinking of writing an article or blog post, but feel insecure about your skill as a writer? I've developed some tests that can help you attract readers by communicating in a way that's easy to read. Give your article the tests that I describe below. These writing tests can also help your other communications aimed at clients, prospects, and referral sources.
WIIFM test
How can you cut through the clutter of the gazillion articles competing for your readers' attention?
When your article appeals to your readers' WIIFM, you command their attention. WIIFM is short for "What's In It For Me?" You need to describe how readers will benefit from the content in your article. Ideally, you'll help them to solve a problem.
It's best if you introduce your readers' problem – and your solution – in words that they would use. Drop the jargon unless it's part of your readers' daily vocabulary. To help you achieve this, fill in the blanks in the following sentence: "I'm worried about … and you can help me by …"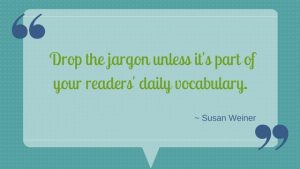 You pass the WIIFM test when your readers see that you can fill in the blanks in my sentence.
First-sentence check
When your articles are easy to skim, your message will reach more readers than if your articles require careful attention.
To perform the first-sentence check, read your headings and the first sentence of every paragraph in your article. In combination, do they give the reader a good idea of your main points? If so, you've written something that's easy to skim. It's also more likely to draw in readers interested in your topic.
This first-sentence check works because strong business writing typically starts each paragraph with a topic sentence that summarizes the paragraph's main point or topic. When I've done writing workshops, participants tell me this is one of the biggest ideas they've picked up.
When an article fails the first-sentence check, it's time to rearrange your paragraphs, rewrite your topic sentences, or rethink how you approach your topic. For more on this approach, read "Quick check for writers, with an economic commentary example."
Rule of 42-14-2
Wordy writing is difficult to read. Direct marketers' research suggest that your readership starts to drop once your articles average more than 42 words per paragraph, 14 words per sentence, or two syllables per word. This is according to research cited in workshops by Ann Wylie of Wylie Communications.
Microsoft Word's readability statistics will give you an idea of how your writing fares in terms of these statistics. The analytical tool at HemingwayApp.com (discussed in "Free help for wordy writers!") can also help you identify text that's too long-winded and give you ideas about how to simplify.
You don't necessarily have to pare your averages down to 42, 14, and two. But becoming more aware of wordiness, and shortening your sentences and paragraphs, will make your writing more effective.
Too busy to test your writing?
If you're too busy to test your writing, ask for outside editorial help. Perhaps you have a colleague or a client who can give you feedback. You can also hire an editor.
Image courtesy of Stuart Miles at FreeDigitalPhotos.net.
https://www.investmentwriting.com/newsite/wp-content/uploads/2017/05/ID-100456327.jpg
400
400
Susan Weiner, CFA
https://www.investmentwriting.com/newsite/wp-content/uploads/2016/12/investmentwriting_logo_2016.png
Susan Weiner, CFA
2018-06-12 05:27:33
2019-08-18 15:23:07
Does your article pass these writing tests?