Catch e-newsletter non-openers with this technique
Do you feel disappointed when some of your e-newsletter subscribers fail to open your newsletters? It happens to everybody. The average "open" rate for financial e-newsletters is about 18%, according to Constant Contact.
I've learned a technique that has boosted my open rates significantly in two tests. First, I increased the open rate on one of my monthly e-newsletters from 20.4% to 29.1%. Second, I increased the open rate on one of my Weekly Tips from 20.7% to 27.2%. Since then, I've achieved open rates greater than 30% on some newsletters.
The secret of my higher open rates
I achieved this improvement by re-sending those emails to people who hadn't opened them within about a week following their original sending. It's big win to boost the open rate this easily.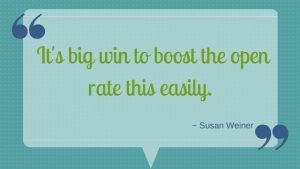 How did I do it? I had my virtual assistant use the QuickSend feature in Constant Contact. I imagine that other forms of e-newsletter software offer similar features. For example, Mailchimp has an option to resend an unopened campaign.
I use QuickSend on every issue of my monthly newsletter. I use it on just one of my Weekly Tips because I don't want to overwhelm my subscribers' email in-boxes. I time the Weekly Tip re-send so it doesn't overlap with the re-send of my monthly newsletter.
How about YOUR newsletters?
Look at your newsletters. Think about how you can use this feature. If your newsletter is monthly, it's a no-brainer to use this QuickSend approach. If you publish more frequently, be careful that you don't overwhelm your readers' in-boxes.
Please tell me if it boosts your open rate and, more importantly, if it helps you to improve your relationships with clients and prospects.
Another tip for your e-newsletter
In addition to using QuickSend, I have another tip for boosting the open rate for your monthly newsletter.
Don't wait until your regular monthly date to send a newsletter to a new subscriber. I try to send weekly to new subscribers. I hope to attract more attention by contacting them while they still remember signing up for my newsletter.
https://www.investmentwriting.com/newsite/wp-content/uploads/2017/04/space-travel-1784461_1280.png
1280
1280
Susan Weiner, CFA
https://www.investmentwriting.com/newsite/wp-content/uploads/2016/12/investmentwriting_logo_2016.png
Susan Weiner, CFA
2017-06-13 05:32:02
2017-05-30 15:07:26
Catch e-newsletter non-openers with this technique