Nobody gets excited about reading an article. That's the thought that crossed my mind when I received a newsletter that opened as you see in the image below.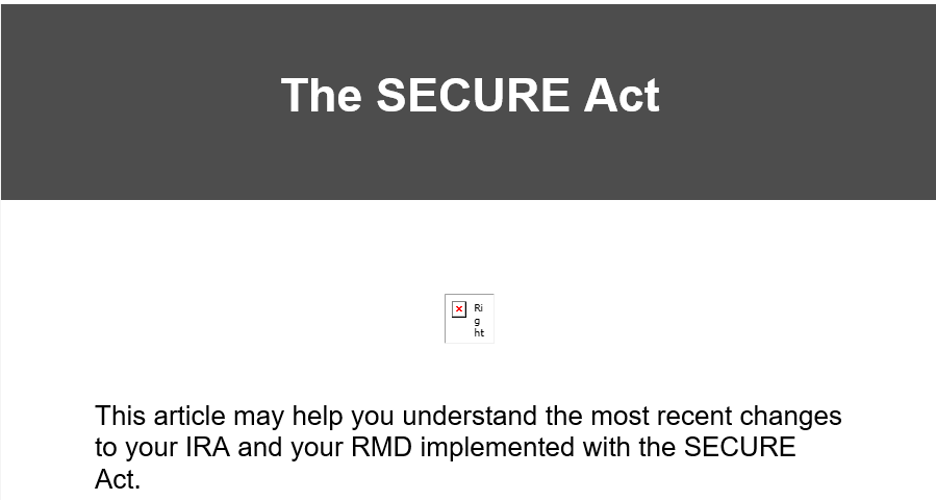 The person sending the newsletter had good intentions. He knew that the SECURE Act brings changes that can affect the retirement planning of his clients and prospects. However, he didn't convey that the changes were going to offer opportunities for readers to gain—or to experience pain. As a result, few people are likely to click on the link to read the article. It might be a great article. But the newsletter doesn't give readers a reason to click.
Readers care about the WIIFM—What's In It For Me. They want to know how they'll benefit—or how they can minimize their pain.
The SECURE Act offers both gains and pains. That could inspire better headlines, such as:
GAIN: Avoid required minimum distributions—and the related taxes—for longer under the SECURE Act
PAIN: New limits on "stretch IRAs" mean you may need to adjust your retirement plan.
If you think about it, I bet you can apply this lesson to create better headlines.
https://www.investmentwriting.com/newsite/wp-content/uploads/2020/06/A-great-way-2.png
200
200
Susan Weiner, CFA
https://www.investmentwriting.com/newsite/wp-content/uploads/2016/12/investmentwriting_logo_2016.png
Susan Weiner, CFA
2020-09-08 05:11:38
2020-07-08 11:32:23
Focus on WIIFM, not the article