Writing for financial experts
How should you tailor your financial writing for experts like institutional investors or financial professionals? I have many gut feelings about what you should do. But this time I'm drawing on other people's research. Nielsen Norman Group (NNG) performs great research about how people read on the web. NNG's Hoa Loranger and Kate Meyer discuss "Writing Digital Copy for Domain Experts" in an article that may apply to financial experts. I say "may apply" because their article only mentions "medical professionals, scientists, and engineers."
Here are the five main findings or recommendations in Loranger and Meyer's article:
Provide facts, avoid interpretation.
Citations and supporting evidence are critical.
Experts care about recency.
Shared vocabularies change the rules for plain language.
Grammar and spelling count.
1. Provide facts, avoid interpretation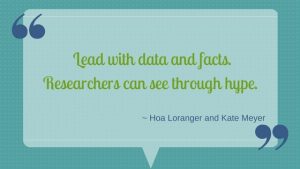 Loranger and Meyer say that experts care most about the following two types of information, as they are "on a fact-finding mission":
New information that they haven't considered or heard of
Contradictory information that is contrary to their existing knowledge or beliefs
"Lead with data and facts. Researchers can see through hype," say Loranger and Meyer. They stress presenting facts and providing "proof for your statements." The idea of providing proof squares with what colleagues have told me about their perception of the difference between writing for institutional vs. retail investors.
Although Loranger and Meyer's heading says to "avoid interpretation," I think what they really mean is to make your content "free from unnecessary fluff and vague assertions," as they say elsewhere in this piece.
2. Citations and supporting evidence are critical
Loranger and Meyer say, "Domain experts often scan bylines and citations for name recognition. If the content is written by a well-respected person or entity, readers are more likely to trust the information."
How might this translate into the world of investment management? It might mean the difference between using asset-class performance data from Standard & Poor's or Bloomberg Barclays vs. data from a little firm that's not widely known or—even worse—simply saying, "in our experience, this is how this asset class behaves."
If possible, make it easy for the experts to access your original sources of information. Of course, that's not possible if you're licensing proprietary information from a provider that keeps its data behind a pay wall.
3. Experts care about recency
Experts may leave sites where article dates aren't shown or the dates are old, according to NNG's research.
Loranger and Meyer say, "Show dates even for evergreen content that continues to be relevant long past its publication date. Domain experts can decipher between time-sensitive developments and long-lasting concepts and older dates." (This makes me feel good about the fact that my blog posts on this website show their publication date.)
4. Shared vocabularies change the rules for plain language
It's OK to use technical language if your audience consists solely of technical experts, according to this article. Although I often rail against technical language, as in "Words to avoid in your investment communications with regular folks," I'm more flexible when I work on institutional communications.
Explaining concepts that experts know well may work against you, say the authors. Experts may look at your work and decide that it's meant for the general public. Still, I suggest that you be careful not to overestimate your audience. For example, a so-called institutional investor could be a less sophisticated investment committee member or financial advisor. Read "How to make one quarterly letter fit clients at different levels of sophistication" for my take on how to keep everybody happy.
Loranger and Meyer suggest that you use extra care if your audience includes people new to the field, if you're discussing less-common concepts or tangential fields, or if your terms have multiple meanings.
5. Grammar and spelling count
You may think that experts care more about the information than how you write about it. Think again.
"…when your target users are highly educated, they may be more likely to catch mistakes in your writing, and they may be more critical," say Loranger and Meyer.
Useful tips for writing online for experts
This article provided some tips specific to writing online for experts.
You can't dump too many facts on a web page. You'll overwhelm your readers. The solution? Loranger and Hoa suggest layering your information, using two techniques:
State the summary at the top. Then provide more detail information down the page progressively.
Include hyperlinks that take readers to supporting details on deeper-level pages. Experts are particularly likely to click on hyperlinks to increase their understanding of a topic.
An A-to-Z index to your content may make sense for experts, while it wouldn't work for the general public "because users don't often know the exact name of the topic they want," say Loranger and Meyer.
Another online writing tip: sign up for the Nielsen Norman Group weekly newsletter. It's one of the few newsletters I read regularly.
https://www.investmentwriting.com/newsite/wp-content/uploads/2017/05/fashion-1979136_1280.jpg
853
1280
Susan Weiner, CFA
https://www.investmentwriting.com/newsite/wp-content/uploads/2016/12/investmentwriting_logo_2016.png
Susan Weiner, CFA
2017-06-20 05:07:29
2017-05-10 19:08:51
Writing for financial experts