E-newsletters: Great marketing tool for financial advisors and writers
E-newsletters are a great way to market yourself, as I'll discuss on the WordCount Last Wednesday (#wclw) Twitter live chat on August 25 from 11:30 a.m.-12:30 p.m. Eastern.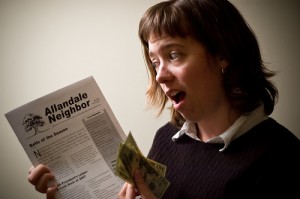 You can get details on how to tune into my #wclw chat at http://bit.ly/92SQdH
Learning from personal experience
My Investment Writing e-newsletter has brought me many new clients. Sometimes I get calls or emails within 24 hours of sending out a newsletter. Other times, it's the steady drip of emails that brings my name to mind when a prospective client has a need I can meet.
The funny thing is that I didn't set out to write a newsletter. I simply started writing a mass email to stay in touch with the great people I'd met at my last corporate job. I wanted to give them some useful content in addition to my rhapsodies about gardening and bicycling, so I started reporting on Boston Security Analysts Society events. To my surprise, my former colleagues told me they looked forward to my emails. A newsletter was born.
Services that help you format and manage your e-newsletter
If you create an e-newsletter, don't try to distribute it using your regular e-mail or you might get tagged as a spammer. Now that my subscription base has grown, I pay $30 a month (fees start at $15/month) to ConstantContact.com for access to their website to manage the email lists, format my monthly newsletter and help me avoid the spam filter.  It's easy to learn and the customer service is great.
If I were starting a newsletter today, I might start with MailChimp. It's free for up to 500 subscribers. My financial advisor friends tell me it's also social media-friendly.
Other options, which I've only heard of from friends and colleagues, include:
Most of the pay services will let you experiment with a free account before you commit. By the way, if you want to use Constant Contact, you can give my name as a referral sources, so you get a $30 credit once you become a paid subscriber. I'll also get a $30 credit. However, I think you'll probably want to start with MailChimp.
My top three posts if you're new to newsletters
https://www.investmentwriting.com/newsite/wp-content/uploads/2016/12/investmentwriting_logo_2016.png
0
0
Susan Weiner, CFA
https://www.investmentwriting.com/newsite/wp-content/uploads/2016/12/investmentwriting_logo_2016.png
Susan Weiner, CFA
2010-08-18 07:03:53
2010-08-25 14:22:08
E-newsletters: Great marketing tool for financial advisors and writers