Financial advisor prospecting: Not all non-clients are the same
Getting new clients for your investment or wealth management business is always on your mind. But there are so many prospects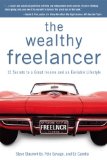 and so little time. One way to narrow your scope is to focus on a target market, as I described in "First pick your target market and niche." A next step is to distinguish between prospects, leads, and opportunities as defined in The Wealthy Freelancer: 12 Secrets to Great Income and an Enviable Lifestyle by Steve Slaunwhite, Pete Savage, and Ed Gandia.
"Don't confuse prospects with leads," says the book. "Prospects are individuals you believe may be interested in your services. Leads, on the other hand, are prospects who have already indicated a certain level of interest in what you have to offer." Moving along the continuum from prospect to client, an opportunity is "a lead who has given you a chance to present your services, discuss a project, or quote a job."
Action step: Look at your universe of potential clients. How many fall into each of these categories? If you're short on prospects, do research to build their numbers. Once you've got enough prospects, focus on moving your prospects, leads, and opportunities through your funnel.
Follow-up will be the key to your success.
Disclosure: I received a free press copy of this book.
https://www.investmentwriting.com/newsite/wp-content/uploads/2016/12/investmentwriting_logo_2016.png
0
0
Susan Weiner, CFA
https://www.investmentwriting.com/newsite/wp-content/uploads/2016/12/investmentwriting_logo_2016.png
Susan Weiner, CFA
2010-12-21 06:09:29
2010-12-21 09:38:51
Financial advisor prospecting: Not all non-clients are the same