Independent vs. wirehouse approach to social media
Want to hear from two of the women who are pioneering social media use in financial services? Watch this webcast featuring Cathy Curtis of Curtis Financial, an independent advisor, and Lauren Boyman, director of social media for Morgan Stanley Smith Barney. The webcast was organized by LinkedIn.
If you listen carefully, you'll hear Curtis identify the form of social media that has helped her the most in connecting with prospective clients. She also mentions an interesting measurement of her social media success: The large number of prospects who find her small independent firm through a Google search.
Curtis keeps her content 80% business and 20% personal. The personal content focuses on food an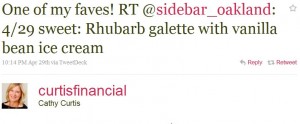 d wine. There's nothing like one of her @CurtisFinancial foodie tweets to make me hungry.
Boyman discusses her firm's strategy of providing pre-approved content to start conversations. Once that content starts the conversation, there will be more leeway for personalization. This is because a Twitter conversation, for example, moves away from being "static content" that requires pre-approval. It will be interesting to see how much flexibility the firm's advisors actually receive.
Boyman's firm will provide a calendar and worksheets to advisors. This sounds like an idea independent financial advisors could benefit from adapting.
To read about some of the webcast's high points, plus some analysis of the webcast, go to Pat Allen's "Personal Or Turnkey? This Must-Watch Video Presents 2 Very Different Approaches To Social Media."
https://www.investmentwriting.com/newsite/wp-content/uploads/2016/12/investmentwriting_logo_2016.png
0
0
Susan Weiner, CFA
https://www.investmentwriting.com/newsite/wp-content/uploads/2016/12/investmentwriting_logo_2016.png
Susan Weiner, CFA
2011-07-27 18:43:25
2011-07-27 18:43:25
Independent vs. wirehouse approach to social media