Reader challenge: Propose a new title for this commentary
Titles count. Especially in these days of search engine optimization, better known as SEO. But even without SEO, the quality of your blog post or article title can make a difference in your readership.

Today's Reader Challenge is coming up with a better title for a piece of published investment commentary: "The 'Great Recalibration.' "
First reactions to "The 'Great Recalibration' " as a title
When I skimmed the title "The 'Great Recalibration,' " I couldn't tell what it was about. Then I read "Volatility in third-party credit ratings heightens the value of proprietary credit research." Aha. This told me I was reading about bonds and that there might be some useful information in the article. This prompted the Facebook poll you see below.

However, reader comments (see below) on the poll made me think this title provides good fodder for conversation.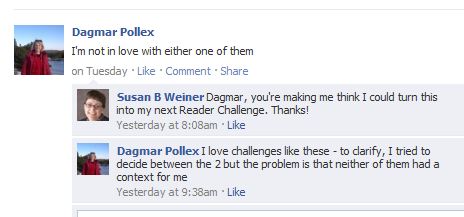 Please give your title suggestions below. You'll probably want to visit the article–at least briefly. I look forward to hearing from you.
https://www.investmentwriting.com/newsite/wp-content/uploads/2016/12/investmentwriting_logo_2016.png
0
0
Susan Weiner, CFA
https://www.investmentwriting.com/newsite/wp-content/uploads/2016/12/investmentwriting_logo_2016.png
Susan Weiner, CFA
2011-06-28 07:40:21
2013-01-01 17:53:45
Reader challenge: Propose a new title for this commentary