Have you ever felt tired of blogging? Thought about giving up your blog? I have. There was a month when I hated all of my new posts and felt enthusiasm about no potential topics. My energy had been flagging for awhile. I say this because "blog burnout" flashed into my head when I saw this statue on Michelangelo's tomb in the Basilica of Santa Croce in Florence, Italy.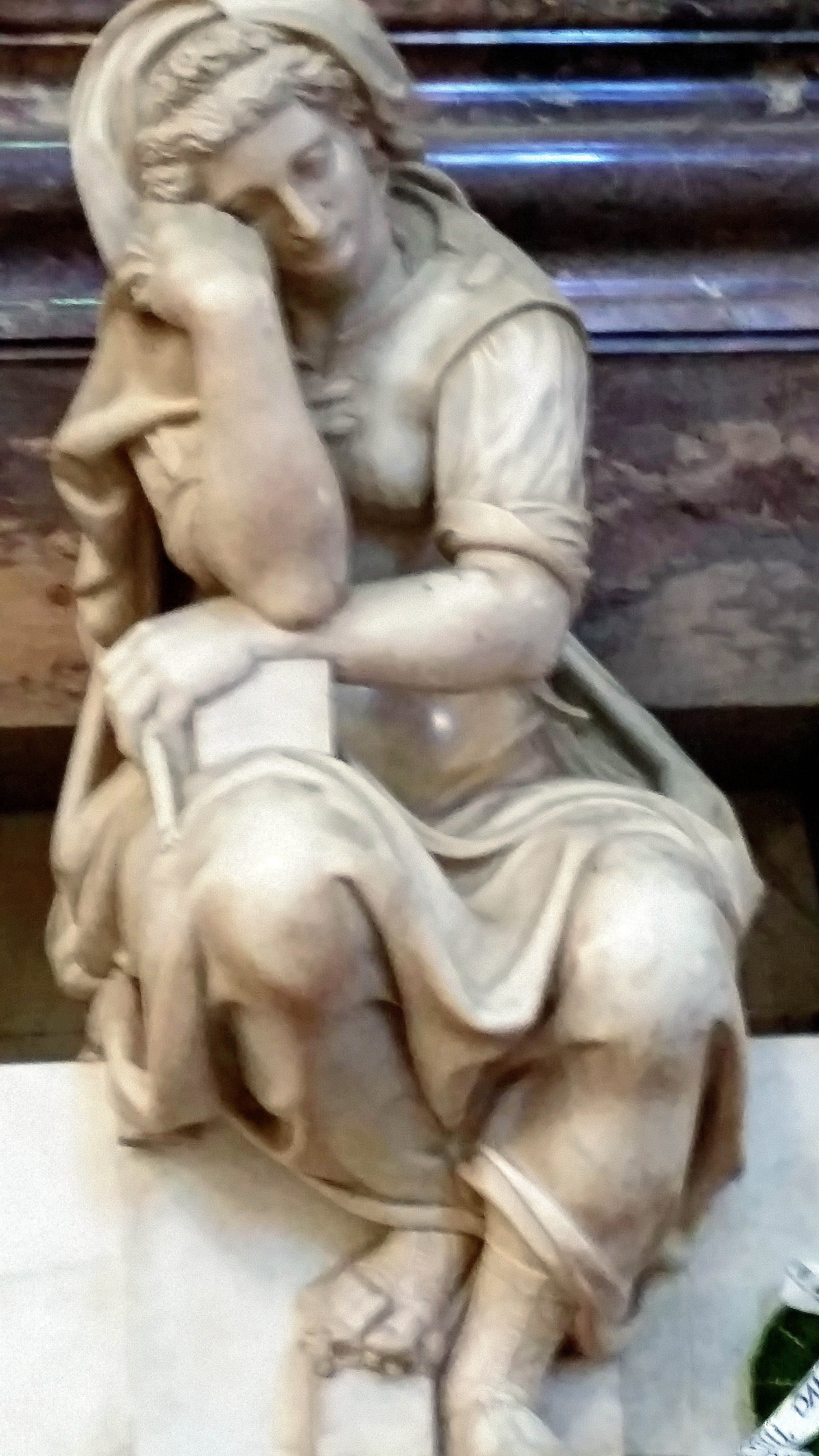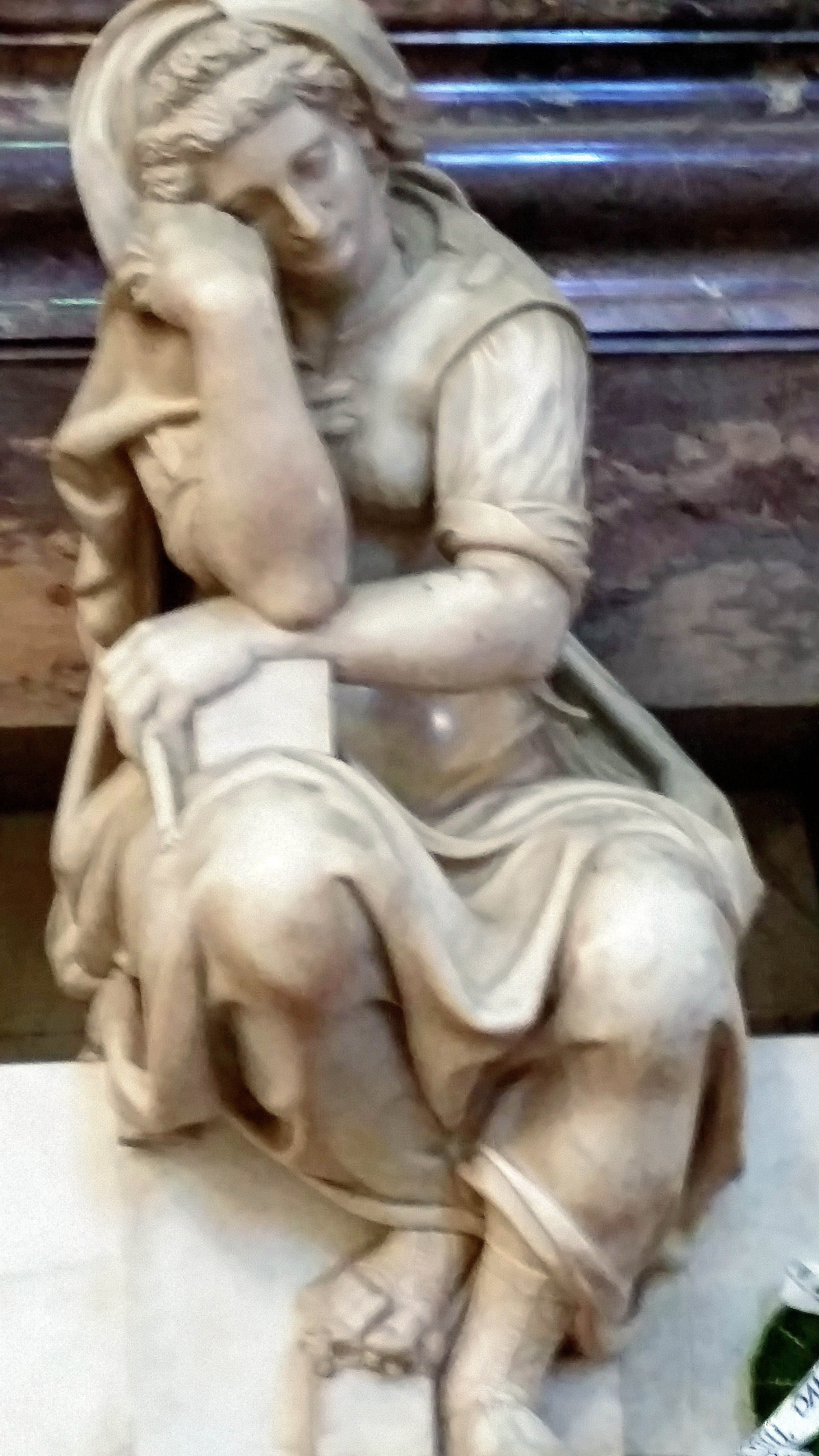 I pulled myself out of my slump. Perhaps you, too, can beat your blogging blahs with the techniques I share below.
1. Reexamine why you're blogging
Take a new look at why you're blogging. If your business has changed, perhaps your blog is no longer worthwhile. Consider dropping it. It felt liberating to considering dropping my blog as part of my goal-setting process.
However, that positive feeling turned to horror, as I considered losing my readers and my chance to express myself on topics about which I feel strongly. My readers and my passion for clear, effective communications are reasons why I continue to blog.
2. Ask if your blog builds your business
Can you see how blogging contributes directly or indirectly to your bottom line? It may be rare for clients to say, "I picked you because of your blog." However, your blog makes you easier to find online. It also helps prospects to get comfortable with you before you ever meet them. Your blog also helps you connect with and educate  clients, prospects, and referral sources.
These are some of the measures I mulled over as I thought about my blog. I also thought about how my blog feeds my e-newsletter and helps to differentiate my social media feed from that of people who rely on curating other people's content. My blog leads indirectly to new business. That's another reason to keep it.
3. Consider ways to ease your burden
If you want to keep your blog, but you're losing your oomph, consider cutting the time you spend on it. Options include
Taking a break or posting less frequently
Getting co-workers to contribute, if you work at a multi-person firm—I've discussed this in "How to manage a group blog: Financial advisor edition."
Inviting guests to contribute to your blog
Republishing old posts, taking the time to update them prior to republication
I've enjoyed contributions by my guest bloggers. I've also updated and republished one old post, "Seven tips for slogging through blogging: Lessons from the Blogathon." I may do that again.
4.

Find fresh inspiration

You need fresh ideas to regain enthusiasm for your blog. Ironically, getting out of my office is one of the best ways for me to do this, as I've explained in "Museums can inspire your blog posts." As I mentioned above, this post was partly inspired by a visit to Florence, Italy, and partly by searching for lessons in my own struggle.

I look everywhere for inspiration. Sometimes I find it in something as simple as a photograph, as I explained in "Photo + Mind Map = Blog Inspiration." Other people's blog posts and books can also inspire. Plus, there are the ideas in my book, Financial Blogging: How To Write Powerful Posts That Attract Clients.
What's your best tip?
My list of slump-breaking tips isn't complete. What has worked for you? I'd like to learn.
https://www.investmentwriting.com/newsite/wp-content/uploads/2015/02/20141030_145813.jpg
5312
2988
Susan Weiner, CFA
https://www.investmentwriting.com/newsite/wp-content/uploads/2016/12/investmentwriting_logo_2016.png
Susan Weiner, CFA
2015-05-04 05:33:07
2017-08-18 16:50:08
How to beat blog burnout