Email productivity booster for investment and wealth management
Whether you're an investment or wealth manager—or a professional or vendor who supports them—you can probably benefit from an email productivity booster. Take advantage of Microsoft Outlook's "signature" feature to summon up basic email templates at the click of a button. I imagine that other email programs may offer a similar feature.
Writing emails from scratch is a productivity killer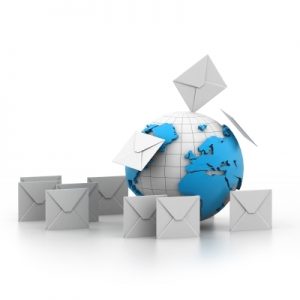 If you're like most of us, you have emails that you send repeatedly, with minimal variations. Maybe it's a prospecting email. Or a new-client welcome email. Or an email asking if you can update the recipient's contact information.
You shouldn't start from scratch every time you write an email. You waste time repeating steps that you've already gone through many times before. Sure, you can save templates in your word-processing software, but it's even more efficient to use one of Microsoft Outlook's underappreciated features, the signature.
Email productivity booster: Microsoft Outlook's signature feature
Did you know that you can save an entire model letter in Microsoft Outlook as a so-called "signature"? Most people use Outlook's signature feature to insert classic signature information, such as your name, contact information, and other promotional information details that go under where you sign off with your name. But, as I learned from organizer Lorena Prime, you can use the Outlook signature for much more.
As you'll see in the image below, I turned an entire email into an Outlook signature.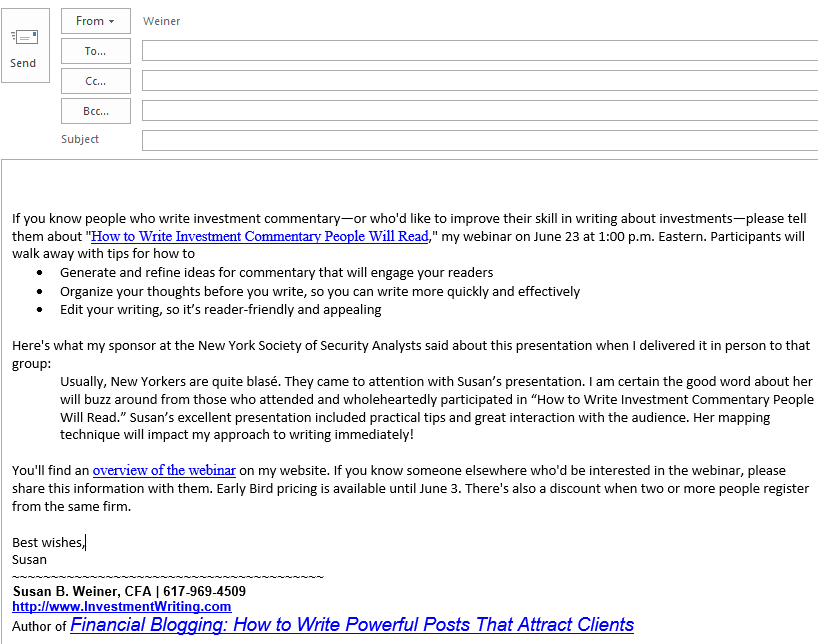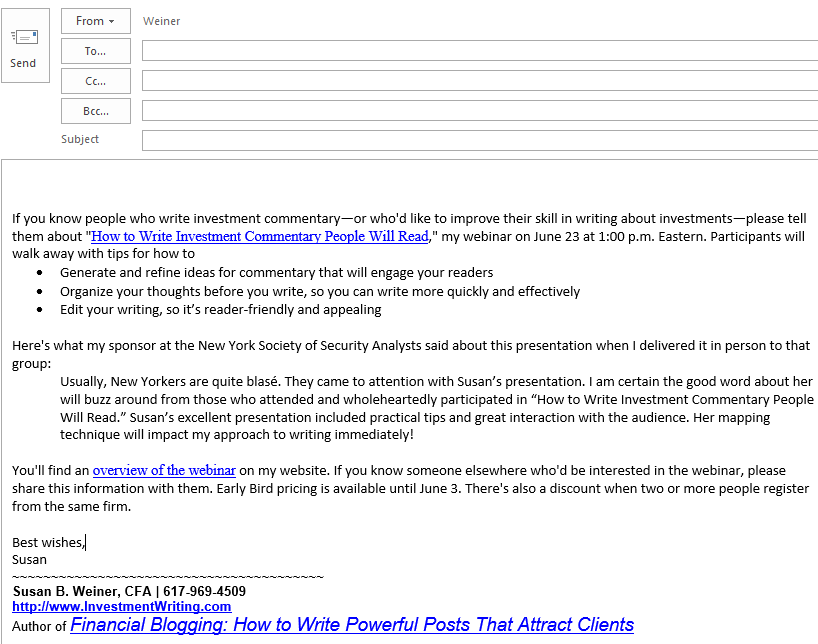 After loading an email as an Outlook signature, it's easy to customize and send.
I simply go to Outlook's Insert tab, click on Signature, and then select by title the text that I want to use. After filling in my "To" and "Subject" lines, and adding a greeting, I'm ready to hit "Send."
This is way faster and easier than writing an email from scratch. It's even easier than copy-pasting from a Word file because I'd probably forget where I saved the dratted model email.
Here's what Microsoft says about creating signatures in Outlook 2013, 2016, or 2019.
YOUR email productivity booster ideas?
If you have ideas for boosting email productivity, please share them.
Of course, sometimes the best productivity booster is to keep your email closed and pick up the phone for a quick solution to a pressing problem.
Image courtesy of ddpavumba/FreeDigitalPhotos.net
NOTE: I made some minor editorial tweaks on Dec. 30, 2019.
https://www.investmentwriting.com/newsite/wp-content/uploads/2016/05/email-productivity.jpg
400
400
Susan Weiner, CFA
https://www.investmentwriting.com/newsite/wp-content/uploads/2016/12/investmentwriting_logo_2016.png
Susan Weiner, CFA
2016-08-16 07:40:17
2019-12-30 18:28:02
Email productivity booster for investment and wealth management