How to achieve continuity in your writing
Continuity in your writing is important. By continuity, I mean the easily followed flow of each sentence, paragraph, and section to what follows it.
I don't remember reading about this topic before I encountered a section on "The importance of continuity" in John R. Trimble's Writing with Style.
Here are four techniques that support continuity.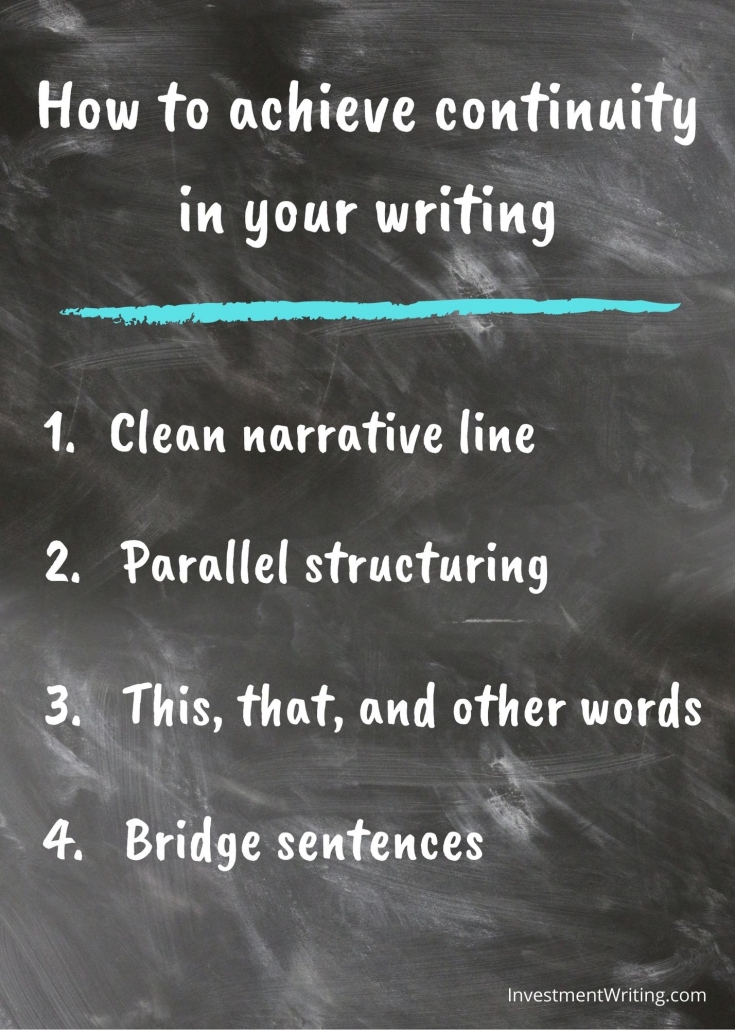 1. Clean narrative line
Part of continuity is what Trimble calls "a clean narrative line. … Each sentence, each paragraph is hinged on the one that precedes it."
As Trimble says, "When you know precisely where your essay has to go, you can 'tell' your argument as simply and coherently as if it were a story, which in a sense it is." This is why, when I teach writing to financial professionals, I stress organizing your thoughts before you write. Financial Blogging: How to Write Powerful Posts That Attract Clients devotes an entire chapter to how to do this using mind mapping.
2. Parallel structuring
Still, there are other techniques you can use for continuity. Trimble mentions parallel structuring, which refers to:
the way paragraph 2 repeats the pattern of paragraph 1; the way each of those paragraphs ends with a key sentence; the way paragraphs 3-5 all begin alike; the way the closing paragraph looks back to the opening paragraph, and so forth.
Parallel structuring is not required. In fact, sometimes it is counterproductive when it's forced or boring. However, it can sometimes help. Consider adding it to your writing tool kit.
3. This, that, and other words
Trimble recommends "the occasional repetition of key words" as well as "the careful use of pronouns such as this and that." Those pronouns link to the preceding sentences.
Next, there's the use of conjunctive adverbs or transitional phrases. Some are "bookish," while others are conversational, like "in addition" versus "also." Trimble lists many examples of these words that help "signpost" an argument.
4. Bridge sentences
Here's another tip from Trimble: "View each paragraph opener as a bridge sentence aimed at smoothing our way into the new paragraph." His illustration of the technique is very similar to what I suggest in my blog post discussing first-sentence checks.
Work at continuity
Continuity may not happen naturally. Trimble's tips provide some tools to help you create continuity where it's lacking.
Disclosure: If you click on an Amazon link in this post and then buy something, I will receive a small commission. I provide links to books only when I believe they have value for my readers.
The image in the upper left is by Gerd Altmann from Pixabay
https://www.investmentwriting.com/newsite/wp-content/uploads/2019/12/business-4241792_1920.jpg
1280
1920
Susan Weiner, CFA
https://www.investmentwriting.com/newsite/wp-content/uploads/2016/12/investmentwriting_logo_2016.png
Susan Weiner, CFA
2020-01-07 05:03:22
2020-11-15 14:27:03
How to achieve continuity in your writing