Reader question: How can communicators manage difficult portfolio managers?
Investment communications professionals and portfolio managers don't always see eye to eye on investment commentary, white papers, and other publications. But there are ways to manage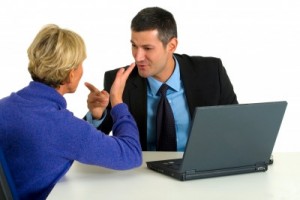 your differences, especially if you set expectations before portfolio managers write or even propose publications.
You asked, so I'm answering
Some of my readers asked, "What you can do when portfolio managers think their topics and writing are great, but you know they're not?" Sometimes the experts propose topics that fascinate them, but they struggle to explain how the topics will appeal to their intended audience. Also, it's not uncommon for experts to become engrossed in details and technical terms, but neglect to explain the big picture.
I had some ideas about how to manage these situations. And I picked up some more from my colleagues on LinkedIn, after bouncing my ideas off them. I'm quoting people only if they gave me their permission. Thank you, friends!
A five-part approach
In my opinion, there are five parts to an effective strategy for dealing with the portfolio managers.
Use a process for considering topics.
Create communications standards.
Discuss.
Edit.
Get support from your boss.
1. Establish a process
Communicators can avoid conflicts by putting a process in place. As David Scales suggests, "If someone has what they think is a great idea, they should come to you first and discuss. Together, you can define the target audience…and key points to include."
Julie Fordyce agrees, saying "If you get him thinking about these things seriously before he starts writing, then you can help him structure the paper properly at the outset and avoid the brain dump — the 'here's everything I know about this topic, and every chart and graph I've ever come up with' problem."
This is also the best time to squash potential white paper topics by pressing the portfolio manager about "Why will this topic interest the audience?" I like to ask "What problem does this topic solve for your readers?" and "Why will readers care about this topic?" Writer Nancy Miller says, "Investment professionals tend to think about what they know and what they want to tell. I try to get them to flip it around: What does your reader want or need to know? What's the best way to make that happen?"
2. Create communications standards
Establishing written guidelines for your communications helps portfolio managers to understand why communications managers balk at their topic ideas and drafts. Your guidelines might be as broad as "You must establish in the first paragraph how this affects an affluent investor's portfolio" or as nitpicky as "The plural of Treasury is Treasuries."
I'm a big believer in explaining right away why the reader should care about the topic of any communication. If I worked on staff, I'd make that part of my firm's communications standards. I'd also implement standards about exhibits, in addition to the usual style guidelines.
Style guidelines can defuse disagreements. Jenny L. Herring, who established style guidelines based on AP style, says, "It helped to be able to back up my guidelines with a standard reference work. It also helped when the heads of certain asset classes scheduled meetings with the portfolio managers to emphasize the importance of meeting deadlines and following style guidelines." Support from the top always helps.
Your standards may vary depending on the audience for the final document. "Basis points" or even "bps" is fine for a time-sensitive communication between bond managers, but neither expression belongs in a document for individuals who are new to investing.
3. Discuss
Even if you have a process in place and your portfolio managers do their best to follow your guidelines, you still may run into problems. After all, portfolio managers aren't professional writers.
This is when you should discuss the document. I suggest that communicators first say what is good about the document and then ask for help in building on the good things. Identify why the document doesn't meet your firm's communications standards. Criticize the piece, not the person.
I like this suggestion by Miller for dealing with portfolio managers who get bogged down in details: "I ask what they prefer to read — a document that shows the writer's expertise or the document that gets to the point right away?"
Be realistic in your expectations. You can't expect a busy portfolio manager to memorize your style guide. The communications professionals will probably have to do some fine-tuning before a document reaches the public.
4. Edit
Communications professionals should be prepared to edit as necessary. Do the best that you can, but you don't have to fight over every little mistake. As Jeff McLean says, "Financial markets move too quickly to worry about a hyphen that the CEO mistakenly insisted on changing because it 'didn't look right.' Recall that his or her name is on the piece, not the name of the ghostwriter or editor." Bennett Inkeles agrees, "Do your best work, make a case for what's right, then move on with a smile."
Remember that sometimes the portfolio manager is right, even when their phrasing seems wrong. "I had a conversation with a financial writer who came to blows with a PM over verbiage he believed did not make sense. However, based on my experience, the verbiage in question made perfect sense," says Inkeles.
In some cases, it makes sense to let portfolio managers sound like themselves, especially when a piece runs under the manager's byline. "Readers want an authentic voice, not a Victorian grammar lesson," says David Lufkin.
5. Get support from your boss
Sometimes you have to override a portfolio manager's objections. I'd do that if a manager threw terms like duration and convexity into a piece for individual investors. In cases like this, it's helpful to have your manager's support.
March 11, 2013 update: I corrected a grammatical error in this piece. Yes, I make them, too.
Image courtesy of Ambro at FreeDigitalPhotos.net
https://www.investmentwriting.com/newsite/wp-content/uploads/2011/11/ID-10040848.jpg
266
400
Susan Weiner, CFA
https://www.investmentwriting.com/newsite/wp-content/uploads/2016/12/investmentwriting_logo_2016.png
Susan Weiner, CFA
2011-11-01 05:48:06
2015-10-02 18:09:17
Reader question: How can communicators manage difficult portfolio managers?