Stinging quotes from "Do I Make Myself Clear?"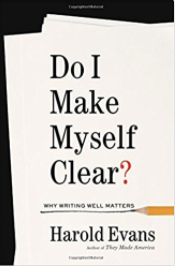 Harold Evans wrote some great lines against bad writing in Do I Make Myself Clear? Why Writing Well Matters. Here are some of them, organized by topic.
If you can avoid making the mistakes he highlights, you can live up to his statement that "Good writers breathe a kiss of life into old dead facts."
I love the term "pussy footing passive," which you'll find in the section on the passive voice.
Passive voice
Evans says the passive voice "robs sentences of energy, adds unnecessary participles and prepositions, and leaves questions unanswered…"
"When you write in the passive voice, you can't escape adding fat any more than you can escape piling on adipose tissue when you grab a doughnut."
However, Evans admits there are times when the passive voice is necessary. These cases include when the actor isn't known, when the identity of the receiver of the action isn't known, when the writer wants to conceal the actor (also known as the pussy footing passive, according to Evans' citation of Edward Johnson), and when otherwise the verb would follow a long subject.
Negatives
"Express even a negative in positive form…it is quicker and easier to understand what is than what is not."
For example, say "Bond prices fell" instead of "Bond prices did not rise."
Emphasize the impact on people
"Put people first," says Evans.
"Eyes that glaze over at 'a domestic accommodation energy-saving program' will focus on 'how to qualify for state money for insulating your house.'"
Prepositions
"The circumlocutory preposition is a fluffy substitute for a single preposition which gives the meaning as clearly. The grossest offenders are in the field of, in connection with, in order to, in respect of, so far as…is concerned."
Miscellaneous
"The people who create and run companies aren't stupid, but they put their names to statements that are management mumbo-jumbo, products of algorithms rather than thinking human beings."
If you like what Evans says…
I also quote Evans in "Avoid long introductory clauses, or lose readers."
Disclosure:  If you click on an Amazon link in this post and then buy something, I will receive a small commission. I link only to books in which I find some value for my blog's readers.
https://www.investmentwriting.com/newsite/wp-content/uploads/2017/12/Stinging-quotes.png
840
840
Susan Weiner, CFA
https://www.investmentwriting.com/newsite/wp-content/uploads/2016/12/investmentwriting_logo_2016.png
Susan Weiner, CFA
2018-03-20 05:06:02
2018-03-18 18:47:36
Stinging quotes from "Do I Make Myself Clear?"