Use LinkedIn to find prospects without being sleazy
"You are a mosquito in a nudist colony of opportunity," said Kevin Knebl in his on-demand session on "LinkedIn for Huge Sales and Referrals Success!" at the NAPFA Spring Conference in May. He was referring to the opportunities that financial advisors—or anyone—can find using LinkedIn Sales Navigator. LinkedIn Sales Navigator is a paid service that Knebl views as inexpensive relative to the opportunities it offers. Knebl discussed how you can boost your prospecting using Sales Navigator after you improve your LinkedIn profile using the tips I wrote about in "Reboot your LinkedIn profile for better marketing!" in the NAPFA Advisor.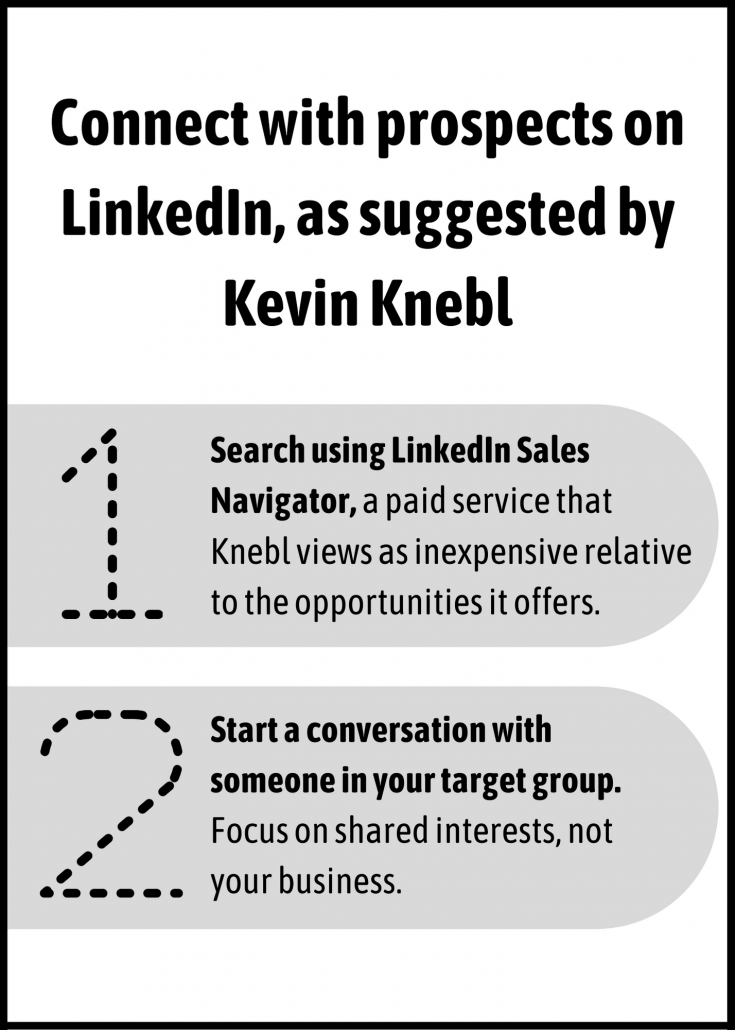 1. Search using LinkedIn Sales Navigator
LinkedIn is a "database on steroids," said Knebl. Take advantage of that by filtering the 750 million people on LinkedIn by some of the couple dozen factors available using LinkedIn Sales Navigator. These include geography, titles, number of employees, language, industry, college, and more. Don't forget to search on common interests, such as golf, skiing, or wine, said Knebl. Those are important because it's much easier to start a conversation with someone when you share a common interest.
Look at the results of your search. You may pay particular attention, for example, to those who changed jobs recently, which may create a new need for advice. Or perhaps you prefer to focus on those who are more active on LinkedIn or who went to the same college as you.
You can save your search and get notified every day of any new individuals who fit those search criteria.
2. Start a conversation with someone in your target group
No one will hire you to manage their money without having a conversation with you, so Knebl said you should figure out how to start a conversation with a targeted message.
Do not start your email by asking, "Can I manage your money?" In fact, Knebl never mentioned anything financial in the sample message that he discussed in his session. Instead, he opened by mentioning commonalities, such living in the same state and enjoying the same sports, including golf. Then he offered to buy his prospect a cup of coffee to discuss golf courses if the prospect ever visits his area. This kind of opening will make a good first impression.
Try it!
Try Knebl's approach. See if it works for you. It's unlikely to deliver instant results, but you may develop some relationships that could eventually evolve into new business for you.
As I finished up this article, I read an InvestmentNews article, "RIA marketing is getting more personal, transparent." Knebl's approach fits with this trend toward more personal marketing. The article quotes Tina Powell of C-Suite Social Media saying, "People want to do business with people they know and trust, and if you don't put yourself out there and I'm not able to see every facet of your life, how am I going to know if I want to work with you?"
With Knebl's approach, including his approach to LinkedIn profiles that I mentioned above, your prospects will get a fuller picture of your life than with traditional marketing. And they'll certainly get a fuller picture than with old-fashioned cold calling, which was in the news when I wrote this, as Merrill Lynch ended the use of cold calling, which it had already put limits on.
https://www.investmentwriting.com/newsite/wp-content/uploads/2021/06/Blog-post-images-11.png
1080
1080
Susan Weiner, CFA
https://www.investmentwriting.com/newsite/wp-content/uploads/2016/12/investmentwriting_logo_2016.png
Susan Weiner, CFA
2021-09-07 05:28:24
2021-09-07 18:37:57
Use LinkedIn to find prospects without being sleazy