You can reach more clients and prospects when you put your useful ideas into writing. However, many investment and wealth managers lack the time—or maybe the skill—to put ideas into writing persuasively. That means your audience loses an opportunity to benefit from your expertise.
When your writing isn't as strong as your ideas, you may gain from a good editor or writer with industry knowledge to shape your ideas into compelling prose.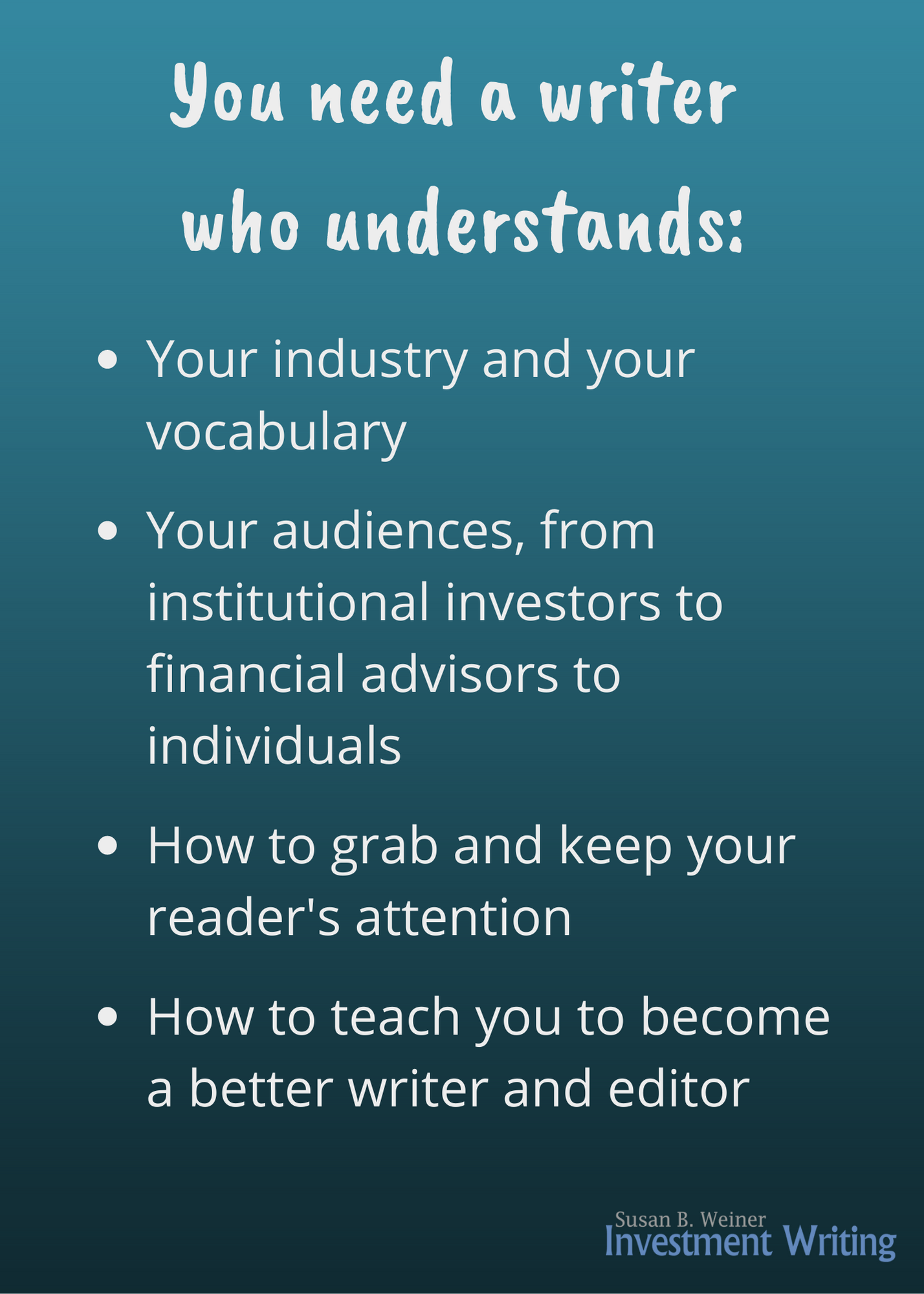 While you may get your thrills from helping your clients reach their financial goals, mine come from cracking the mystery of how to communicate your information persuasively. I've developed my skill through a variety of experiences.
As  a writer-editor for leading investment and wealth management firms and former director of investment communications at Columbia Management, I understand your industry and your vocabulary. Between real-life experience and the studies that led to earning my CFA charter, I know that if you talk about a bond's "duration," I must translate that into simpler language for the average investor.
As editor of the NAPFA Advisor, a monthly publication for financial advisors, I know how to communicate with that audience, which may be an important target for you.
As a former reporter for a weekly mutual fund publication, I know that you've got to grab your reader's attention at the beginning of your story. I'll question you until I understand your "hook." I also understand the importance of deadlines.
As a corporate trainer and public speaker, I've developed the ability to help you become a better writer and editor. It has been exciting to speak across North America on "How to Write Investment Commentary People Will Read" for the CFA Institute and about "Writing Effective Emails " for chapters of the Financial Planning Association. I've captured many of my techniques in my book, Financial Blogging: How to Write Powerful Posts That Attract Clients.
Thank you for giving me the opportunity to enjoy helping you!
Note: This post was originally published in September 2009 and updated in June 2014 and November 2021.
https://www.investmentwriting.com/newsite/wp-content/uploads/2009/09/Blog-post-images-26.png
1080
1080
website admin
https://www.investmentwriting.com/newsite/wp-content/uploads/2016/12/investmentwriting_logo_2016.png
website admin
2022-03-08 12:00:00
2022-03-08 11:16:06
Why I write for you