Editing tool: the Writer's Diet
It's hard to be objective about your own writing. I know that's true for me. That's why editing tools, like the Writer's Diet, can help.
Writer's Diet editing tool identifies weaknesses
The Writer's Diet is a free, online tool that assesses what you enter into its text box. It evaluates your use of verbs, nouns, prepositions, adjectives/adverbs, and "it, this, that, there." As the website explains, "The higher the percentage of highlighted words, the 'flabbier' your score."
Let's look at each item:
The verb test doesn't penalize you for verbs in general. It counts be-verbs, which I've railed against in "The 'Be' test for writers."
The noun test counts abstract nouns, also known as nominalizations, which I've discussed in "Quit hiding your meaning." Abstract nouns are generally not a good idea, though sometimes they are necessary.
The preposition test counts common prepositions. Prepositions aren't bad. But too many of them may make a sentence too complex.
The adjectives/adverbs test counts words with common endings for adjectives and adverbs. An occasional adjective or adverb is fine. Too many make your sentences hard to understand.
The "it, this, that, there" test counts those words. The author also calls this the "waste word test."
Below is a sample analysis that I found on the Writer's Diet website. Can you see how weak it is?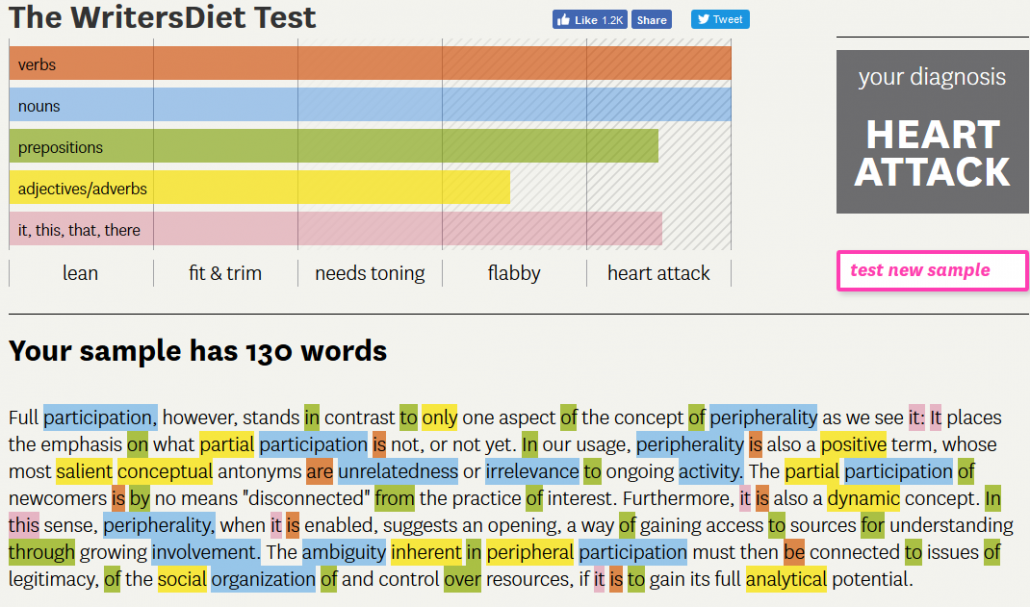 Run multiple samples through this test, suggests Helen Sword, the creator of the Writer's Diet, in her book, Stylish Academic Writing. "By the time you have tested three or four samples of your writing, you will have become aware of your signature usage patterns—for example, a predilection for abstraction (translation: too many spongy abstract nouns) or a tendency to begin every sentence with this."
No editing tool is perfect
No online editing tool is perfect. The Writer's Diet tool admits that. It says, "Many fabulous pieces of prose will receive scores of Flabby or even Heart Attack, because stylish writers have the confidence and skill to play around with language in ways that the test is not designed or intended to evaluate."
The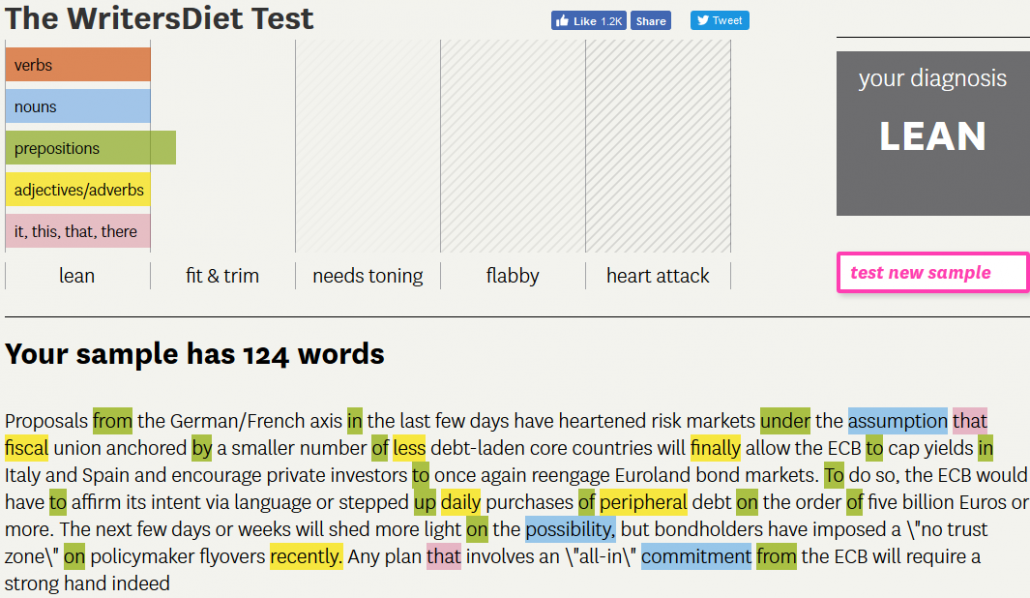 reverse is true, too. See the paragraph below, which I used as an example of bad writing in "Seven Ways to Talk Your Financial Execs Out of Jargon and Bad Writing," my article on MarketingProfs (free registration required). The Writer's Diet praised this awful sentence as "lean," not recognizing that jargon made it difficult to understand.
Even my favorite online tool, which I discussed in "Free help for wordy writers," can't identify all problems. That's why your writing will benefit from a combination of automated and human evaluation.
If you liked this post, you may also enjoy "Quick check for writers, with an economic commentary example" and "5 steps for rewriting your investment commentary."
Disclosure: If you click on the Amazon link in this post and then buy something, I will receive a small commission. I only link to books in which I find some value for my blog's readers.
Image courtesy of Keerati at FreeDigitalPhotos.net.
https://www.investmentwriting.com/newsite/wp-content/uploads/2016/12/ID-10062923.jpg
266
400
Susan Weiner, CFA
https://www.investmentwriting.com/newsite/wp-content/uploads/2016/12/investmentwriting_logo_2016.png
Susan Weiner, CFA
2017-07-04 05:36:31
2022-12-09 16:52:34
Editing tool: the Writer's Diet