Useful social media information from "The Social Customer"
Adam Metz' book, The Social Customer, targets companies with 1,000+ employees, but some of its social media information is useful for companies of all sizes.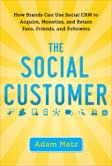 This is true of the chapter on "The Social Customers and the Law."
Financial advisors tend to focus their legal concerns on laws specific to their industry. However, other laws also demand attention, most notably the Digital Millennium Copyright Act (DMCA).
DMCA "makes it easy for copyright owners, like your brand, to challenge any website owner (or social customer) to remove or take down any content that is infringing," as Metz says on p. 226. Metz suggests reading "Fair use in a nutshell" by Lloyd J. Jassin to understand whether you can make a case for issuing DMCA takedown notice.
Here are more Metz recommendations for resources:
FTC guidelines regarding endorsements (FTC File No. PO34520)
Online Word of Mouth and Its Implications for Trademark Law by Eric Goldman, who writes the Goldman's Technology and Law Blog.
Don't forget financial regulations
Financial advisors, your industry is highly regulated, so don't forget the best practices for your industry.
Disclosure: I received a free copy of this book in return for agreeing to write about it.
https://www.investmentwriting.com/newsite/wp-content/uploads/2016/12/investmentwriting_logo_2016.png
0
0
Susan Weiner, CFA
https://www.investmentwriting.com/newsite/wp-content/uploads/2016/12/investmentwriting_logo_2016.png
Susan Weiner, CFA
2011-12-29 05:22:21
2011-12-04 19:31:30
Useful social media information from "The Social Customer"