Kristin Harad's video series on marketing for financial advisors caught my eye-especially because she talks about niche marketing. I'm a big believer in niche marketing.  So I was delighted when she offered to write a guest post for my blog.
By coincidence, Kristin's guest post arrived not long after a wealth management firm executive suggested to me that Facebook ads could be a powerful tool for financial advisors.
Generate Quality, Low Cost Leads with Facebook Ads
by Kristin Harad, CFP®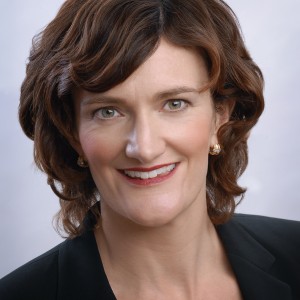 Adding new prospects to your sales funnel can be a costly endeavor for financial advisors.  Workshops, mailings and other tactics can be effective, but the cost-per-lead from these channels is often quite high.  Recently, I've discovered how to effectively use a new marketing channel that's been right under my nose to bring in a steady stream of quality leads at an incredibly low cost:  Facebook.
Now, you probably know that Facebook has become the second largest Web site in the world and last month it was all over the news for registering its 500 millionth user.  But what you perhaps didn't know is that Facebook also offers an incredible self-service advertising platform that is an absolutely amazing tool for laser-targeting ads to your precise audience.  There are four reasons I really love Facebook Ads:
1)  It's really easy to create and manage ads.  No technical nor design expertise required.
2)  You can target practically any niche.  Target your ads by location, demographics and interests. You can reach your EXACT audience.
3) It's highly effective. Put together a well thought-through campaign and you can move people through your sales funnel to becoming paying clients!
4)  It's really cheap! You don't pay anything for impressions and some of our ads cost just six cents per click!  I'm adding targeted prospects to my marketing database at a cost of just 83 cents each.
It's fast and easy to start testing your own Facebook Ads campaign.
Start by going to www.facebook.com/ads where you can sign up online in just a few minutes and instantly begin creating ads that appear on nearly every page of Facebook.  It's very easy to create the ads — you can make one in just a couple minutes and you don't need to have any technical or design expertise.
Be sure to design at least five different ads so that you can test different ideas to see which performs best.  The headline and the image you use in your ads have the most impact on click-through rates, so write a few very pithy headlines.  Images of people generally attract better click-through rates.  The more often people click on your ad, the more it will be shown and Facebook will actually reward you with a much lower price.
Next, and most importantly, think carefully about how to target your ad.
Start with location.  My firm mostly serves families within 25 miles of San Francisco, so in the Location section, I target by City, then type in San Francisco and select cities within 25 miles.  Under demographics, identify who your best potential clients are.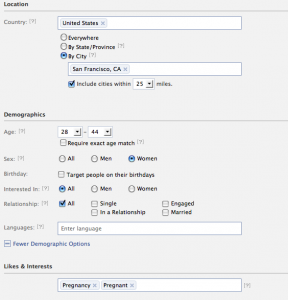 Next comes age, relationship status, likes and interests. Since I work with expectant parents and young families, most of my clients are between their late 20s and early 40s, so I put 28 – 44 as the age bracket.  I choose ALL for relationship status, especially since many people on Facebook don't state theirs.  However, many advisors base their niche off of relationship status, so it can be a really power way to target.  (If you are focused on couples who are getting married, think of the precise messaging you can deliver when you target people who are engaged!)  Then, you'll come to the small Likes & Interests section, which is where the real power targeting comes from.  This identifies users by what they have placed on their own Facebook page, and you can target them based on practically anything!
As an example, I put in 'pregnant' and 'pregnancy' as two keywords.  Based on what I picked for location, age, gender and these two keywords, Facebook estimates that my ad will reach 2,200 people.  That's 2,200 pregnant women between 28 – 44 in the San Francisco Bay Area — my exact customer demographic!  You can't find that kind of precision anywhere else.  More importantly, now that I know exactly who is going to see these ads, I can write messages that speak directly to them.  For instance, "Pregnant in San Francisco?" or "What New Bay Area Moms Must Know."  It's pretty easy to catch my audience's attention when I know exactly who they are.  Plus, I can quickly create other ad campaigns that micro-target other groups, like expectant fathers or parents of a kindergartner.
These ads work incredibly well for me.  Dozens of people click on them each day, visiting special pages on my Web site that I've set up for them.  About 1-in-5 visitors take a further action on my Web site, like subscribing to my email newsletter or signing up for the monthly events that I hold.   It's critical that you design a Web page with a specific action in mind for these visitors.  Send them to your company's home page and they will bounce off without spending two minutes on your site.  But, if you offer an informative and relevant free report in exchange for their email address, they will opt-in to your marketing database by the dozens!
That's what makes Facebook a great way to fill the top of the sales funnel.  Is anyone going to click on a small ad and instantly purchase complex financial products for thousands of dollars?  Of course not!  But by structuring a well-thought out campaign that is designed to pull targeted prospects into the start of my sales funnel, I can begin to form a relationship with them that will evolve over the months ahead and I absolutely convert a portion of these leads into paying clients over time!
Finally, Facebook ads are incredibly low cost.  You can set your own budget, and I'm only spending about $25 per day.  You only pay when someone clicks on your ad, and the price is usually well under one dollar per click.  I think it's a great marketing tool that is absolutely worth experimenting with, so give it a try today at www.facebook.com/ads.
About the Author:  Kristin Harad, CFP® is the President of VitaVie Financial Planning, a fee-only financial planning firm in San Francisco.  She offers a free video series on marketing strategies for financial advisors at http://www.next10clients.com.
https://www.investmentwriting.com/newsite/wp-content/uploads/2016/12/investmentwriting_logo_2016.png
0
0
Susan Weiner, CFA
https://www.investmentwriting.com/newsite/wp-content/uploads/2016/12/investmentwriting_logo_2016.png
Susan Weiner, CFA
2010-08-26 08:02:17
2013-01-01 18:39:51
Guest post: "Generate Quality, Low Cost Leads with Facebook Ads"