"Smart people": A good ad by Bessemer Trust
"You" is one of the most powerful words in the English language. You're much more likely to read a sentence that addresses "you"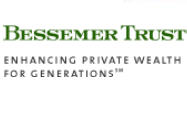 than one that starts with "we." But sometimes alternatives work, as in a recent ad by Bessemer Trust, which uses "smart people" instead of "you."
Do you think of yourself as one of the "smart people"? Bessemer Trust plays on its audience's desire to be smart in its recent ad. If you still have The Wall Street Journal from yesterday, you can see it on page A5.
The ad starts with the following text:
THERE'S NO SUCH THING

AS SMART MONEY.

ONLY SMART PEOPLE.

THE MONEY JUST GOES

WHERE THEY GO.
Bessemer's text hooked me. I'll bet it also snared your attention.
The text benefits from being short and plain, in addition to working the "smart people" angle. It has a nice conversational tone. It sounds more like a blog post than an ad by a firm that was founded in 1907.
If you saw this ad, I'd like to know what you thought of it.
FEB. 11 UPDATE: View the Bessemer Trust campaign online
You can view the entire Bessemer Trust ad campaign on the website of www.munnrabot.com. Go to "current work" and then Bessemer Trust. Click on the ad that appears there to see more ads. Thank you, Orson Munn, for letting me know this!
https://www.investmentwriting.com/newsite/wp-content/uploads/2016/12/investmentwriting_logo_2016.png
0
0
Susan Weiner, CFA
https://www.investmentwriting.com/newsite/wp-content/uploads/2016/12/investmentwriting_logo_2016.png
Susan Weiner, CFA
2011-02-10 10:37:14
2013-01-02 04:35:35
"Smart people": A good ad by Bessemer Trust