Social media: How to succeed in 30 minutes a day
LinkedIn, Facebook, and Twitter are powerful marketing tools for financial advisors. But they could easily consume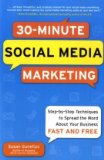 you 24 hours a day. This is why I suggest you learn from 30-Minute Social Media Marketing by marketer Susan Gunelius.
Cover these four areas for success
Gunelius offers sample plans for achieving social media success in just 30 minutes a day. I particularly like her idea that you divide your time among the following four areas:
Content creation
Content sharing
Connections
Community building
If you touch all of these areas, you'll develop a robust presence. Skimp on any, and your connections may suffer.
1. Content creation
Content creation refers to activities such as tweeting, blogging, and creating audio interviews, podcasts, and videos. Clearly a single blog post–and even audio and video–can consume more than 30 minutes, so Gunelius focuses on less time-consuming content.
2. Content sharing
For example, Gunelius mentions retweeting other people's Twitter comments, inviting other people to guest on your blog, and syndicating your content to other publications or social media. For me, this ties in with making connections, Gunelius' third category, and community building, her fourth category.
3. Connections
Gunelius suggest that you engage in activities such as sending Facebook friend and LinkedIn connection requests and adding social media links to your email signature. As I see it, if you lack connections, you handicap your chance of achieving your business goal.
4. Community building
For me, one of the most amazing things is the sense of community that I've developed through social media. So I think you're missing out if you skip activities in Gunelius' fourth category.
These activities include the following:
Leaving comments on other people's Facebook walls and LinkedIn profiles
Participating in forums related to your business
Publishing a poll on your blog
Creating your own LinkedIn or Facebook group and inviting people to join
However, I know some investment and wealth managers are just too busy to engage in these activities. Plus, they've got compliance concerns, especially when it comes to commenting on other people's content.
Too optimistic?
Gunelius is a bit optimistic about how much you can accomplish in one-half hour. As I mentioned above, creating a single piece of content can take much longer than 30 minutes.
On the other hand, some tasks can be delegated. There are ghost bloggers and ghost tweeters. In addition, tools such as HootSuite and blogging software make it possible to schedule a slew of communications at one go.
Another thing about Gunelius' book, if you're a social media newbie, you'll get an easy introduction in 30-Minute Social Media Marketing.
Can you add tips?
How do YOU ration your social media time? I'd like to learn from you. Please share your tips below.
Disclosure: I received a free copy of this book from McGraw-Hill in return for agreeing to write about it.
https://www.investmentwriting.com/newsite/wp-content/uploads/2016/12/investmentwriting_logo_2016.png
0
0
Susan Weiner, CFA
https://www.investmentwriting.com/newsite/wp-content/uploads/2016/12/investmentwriting_logo_2016.png
Susan Weiner, CFA
2011-02-08 06:58:18
2011-01-17 09:48:38
Social media: How to succeed in 30 minutes a day