Grammar, punctuation, and word usage questions puzzle many of my readers. If you'd like to brush up on the basics, I've got some tips for you.
1.  Buy and read Edit Yourself  by Bruce Ross-Larson.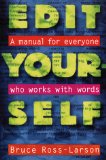 This slim paperback offers tips in an easy-to-read style in its first 11 chapters. For example, "Long sentences−those of more than, say, twenty words−often are hard to read. Short sentences usually are not." The second half of the book is an alphabetical, reader-friendly reference.
When you have questions beyond the book's scope, check out the books listed in "My five favorite reference books for writers" and the online resources I discuss in "Poll: What's your favorite online resource for grammar, punctuation, and word usage questions?"
2. Take GrammarBook.com quizzes.
GrammarBook.com offers interactive quizzes. What I liked about the one quiz I took was that the answers explained the rules clearly. Plus, it taught me some fine points of grammar, so it's good for advanced students as well as writers who are brushing up.
Some of the GrammarBook quizzes are free. If you like the freebies enough, you can buy an annual subscription to access the rest.
Disclosure: If you click on an Amazon link in this post and then buy something, I will receive a small commission. I provide links to books only when I believe they have value for my readers.
https://www.investmentwriting.com/newsite/wp-content/uploads/2010/07/51SF2FRXSWL._SL160_-Larson-book.jpg
160
106
Correna Wood
https://www.investmentwriting.com/newsite/wp-content/uploads/2016/12/investmentwriting_logo_2016.png
Correna Wood
2011-11-29 05:30:38
2021-09-08 11:20:45
How can I brush up my grammar?