"There is no one exactly like you. Raymond James financial advisors understand that."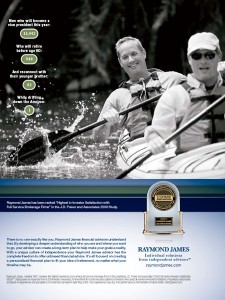 These lines from a Raymond James advertisement get right what so many financial ads and brochures get wrong. They focus on you, the client, instead of us, the firm. They also make the client feel unique. These are qualities I'd like to see more of in financial advisors' marketing and communications.
How do YOUR marketing materials measure up?
https://www.investmentwriting.com/newsite/wp-content/uploads/2016/12/investmentwriting_logo_2016.png
0
0
Susan Weiner, CFA
https://www.investmentwriting.com/newsite/wp-content/uploads/2016/12/investmentwriting_logo_2016.png
Susan Weiner, CFA
2010-07-20 08:32:02
2010-07-17 10:17:51
Great lines from Raymond James